Celebrate the New Year in Istanbul
Like every year, many of you ask us the question: "where to spend the New Year's Eve in Istanbul?" In order to celebrate NYE in the only city located on two continents, we wrote you this "special December 31". article. Indeed, there is no shortage of places and events, between restaurants, concerts, boats or nightclubs, here are some addresses as well with some tips to make the most of your evening on the upcoming Tuesday, December 31, 2020 in Istanbul!
A bit of history and some advices:
You will quickly realize the attraction of Istanbul's residents for this celebration when you walk in certain districts where Christmas decorations richly decorate the streets and buildings, garlands of lights and fir trees are omnipresent. Like the celebrations of Christmas in the West, here we celebrate the new year. The Christmas tree, an essential element of the festivities, is also called the New Year tree. We also exchange gifts during this evening during which the tradition recommends to dress in red underwear to have a lucky new year.
Many Istanbul residents prefer to celebrate at home or in private parties, but Istanbul is so crowded that all establishments will be full. Our first advice is to book as quickly as possible, and especially not to go to a random neighborhood to risk spending your evening outside, in the traffic or in a tourist trap.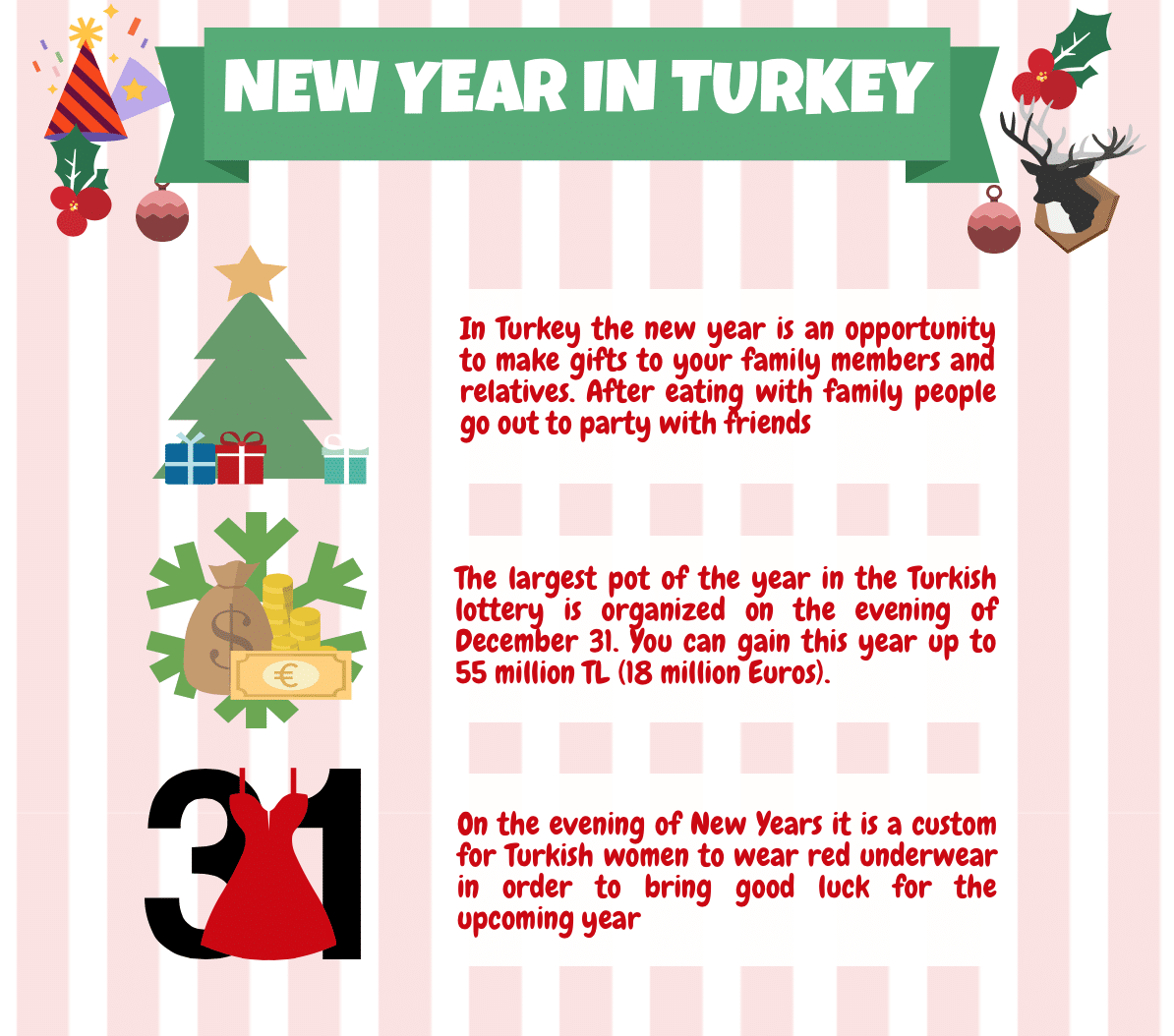 If you want to party until the early hours of the morning, we recommend that you choose a restaurant offering both the dinner and the party, or else choose a restaurant close to the place you want to party. Otherwise, you risk spending your New Year in the traffic or on the sidewalk looking for a taxi! If you wish, we can also organize transfers for the evening. Do not hesitate to contact us for more information.
The common point of all these events or parties is that you will have to spend some money. It is impossible to find a beautiful place with a view or in a beautiful setting at a low price. The craze of the residents and tourists for the New Year has contributed to real inflation: almost the majority of large hotels, restaurants and clubs offer New Year packages including dinner and evening. In general everything is included (alcohol and meals). Remember to ask if you find an establishment that is not on our list.
Now that you have read our advices, here is our selection of addresses with a diversified choice in terms of types of establishments (palaces, typical restaurants, bar / clubs …). Do not hesitate to contact us if you wish to have our opinion on other addresses.
Celebrate the New Year in a palace
FOUR SEASONS BOSPHORUS: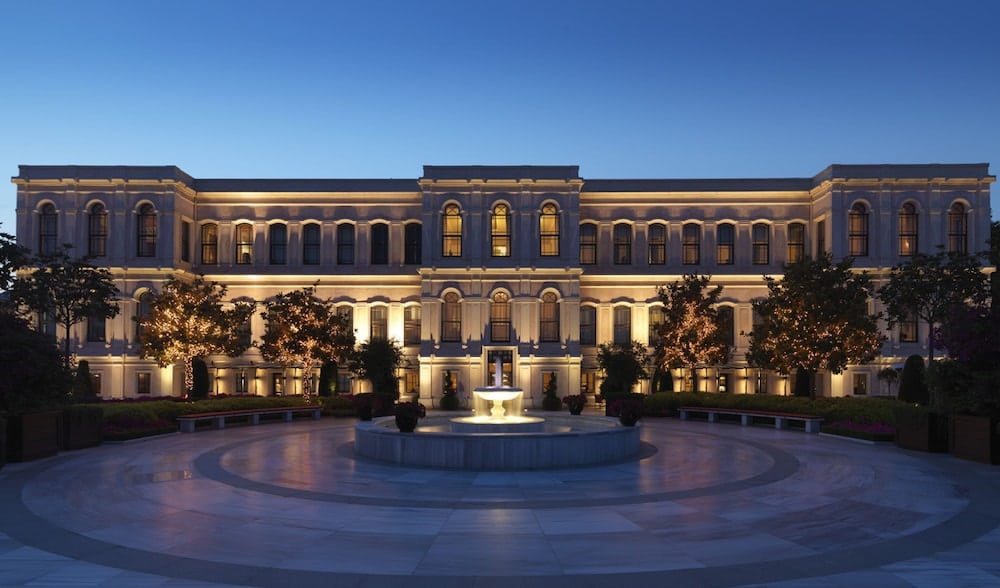 Customers are invited for a festive gala dinner on two different themes:
The Bosphorus Ballroom Gala – Blaze in the Dark will be held in the magnificent Bosphorus Ballroom. The evening will begin with modern pop and jazz with the group Purple Hand Band accompanied by a special New Year's menu and unlimited premium drinks. On the menu for the New Year's special: Smoked clam, gnocchi with black truffle, filet of a kind of turbot, beef fillet and for dessert a chocolate mousse with its exotic cream. After midnight, Danna Leese will take charge of the evening. The menu is 2140 TL per person and 1050 TL for children between 6 and 12 years old.
The Aqua – Mysterious Garden Gala dinner will take place in the concept of the enchanted garden and will welcome guests with a performance by Özge Erdeniz and her orchestra, followed by a saxophone solo. On the menu for the New Year's special: Red and white radish with its marinated onions, lobster, ravioli with wild mushrooms and pine nuts, grilled sea bass, filet mignon, and chestnut balls for dessert. This menu is 1550 TL per person with alcohol not included and 775 TL for children between 6 and 12 years old. More informations on: www.fourseasons.com/bosphorus
PERA PALACE: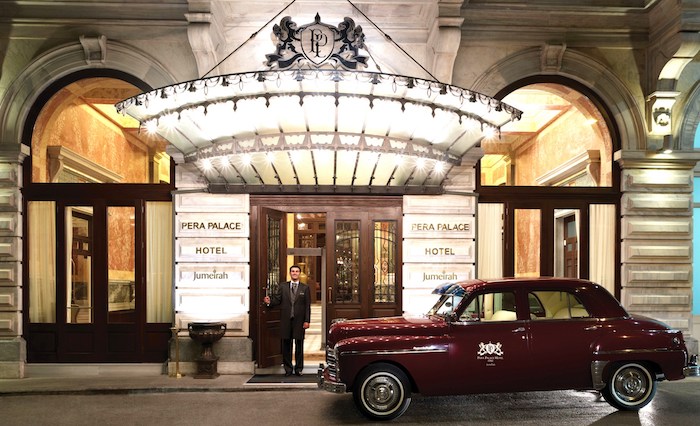 Like every year, a dinner followed by a party takes place in the ballroom of the legendary Pera Palace hotel. This is an opportunity to experience a good evening that will remind you of the glamor of the 20s and 30s. During dinner, the Tayla Koraz orchestra will liven up the evening with a varied repertoire of Turkish and foreign pop songs, as well as classical music, jazz and salsa. A DJ will then take control to guide you through the night. The menu will include: chickpea soup with porcini mushrooms, seafood combination, squash flower stuffed with turkey and pumpkin puree, filet mignon married with fresh spices and lamb chops and as a dessert ginger mousse stuffed with green apples and unlimited alcohol, the price is 200 EUR per person. For more information, you can contact the Pera Palace: info@jumeirah.com
KEMPINSKI ÇIRAĞAN: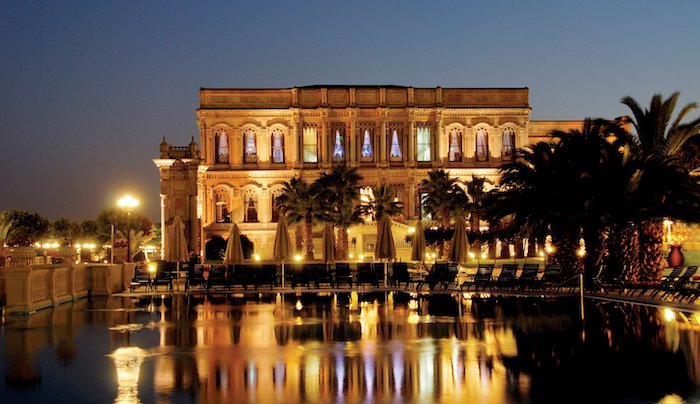 The legendary palace hotel on the banks of the Bosphorus offers a chic new year in two of its restaurants:
At the Tuğra, the menu concocted by a chef based in particular on "Börek" with puff pastry with truffles garnished with "Ayvalik" cheese accompanied by a fig and cinnamon sauce, quail stuffed with foie gras wrapped in vine leaves with mashed potatoes smoked eggplants, and many others. The evening accompanied by a glass of champagne is priced at 1100 TL per person.
The other restaurant of the Kempinski, the Laledan offers from 19:00 until midnight, a festive Italian buffet at the price of 950 TL per person. For more information: https://www.kempinski.com/en/istanbul/ciragan-palace/dining/festive-season/new-years-eve-and-day/
A dancing new year
RUBY: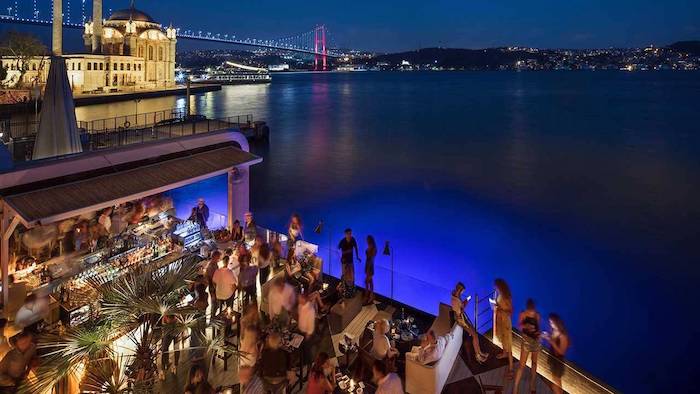 Located on the banks of the Bosphorus, this new trendy restaurant / club offers an evening with fireworks, belly dancers and a DJ after dinner. The price is 1500 TL for a dinner with unlimited alcohol and entry to the club to continue the evening facing the Bosphorus. If it's just the club that interests you, entry is from 11 p.m., the price is between 500 TL and 4000 TL for a table for 4 people. Allow an additional 10% for the service to be paid only in cash at the entrance of the establishment. For more information or to book: www.rubyistanbul.com
ULUS 29: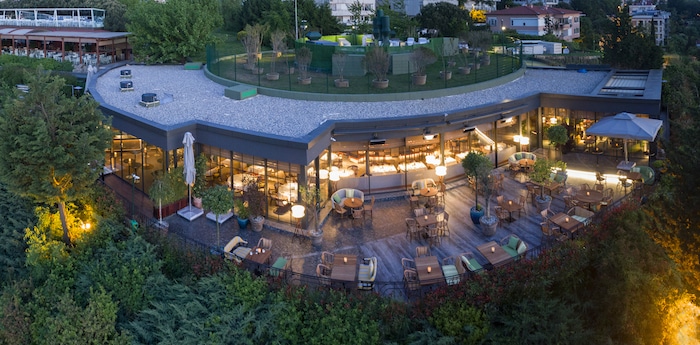 The very elegant club / restaurant overlooking the Bosphorus from the hill of Ulus offers an unlimited meal and alcohol menu at 1500 TL per person and an additional 10% for the service (a total of 1650 TL per person) to enjoy the whole evening . You can choose to have whatever you want on the menu with a selection of unlimited local spirits. If you only come for the club part, the price is 800 TL per person and an additional 10% for the service (a total of 880 TL per person) for unlimited alcohol at the tables or small stands of the nightclub . For more information or to book: www.ulus29.com
SUNSET: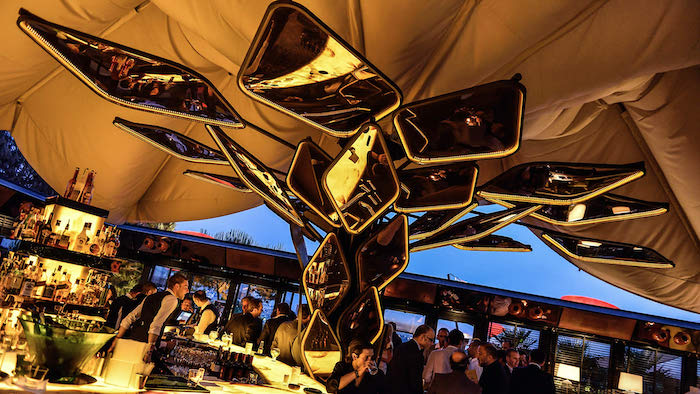 On the night of December 31, a very special New Year celebration awaits those who wish to enter the New Year while contemplating a magnificent view of Istanbul. The dinner will be organized by Creative Kitchen's chef Fabrice Canelle and will begin with a welcome cocktail at 8 p.m., followed by a very attentive dinner surrounded by the voice of Esra Güner. After dinner, DJ Evren and DJ Mert Levent will accompany you throughout the night. The price is 1200 TL per person and includes dinner and VAT, service and drinks are not included in the price. For those who want to go there after midnight the price is 600 TL for unlimited alcohol. For more information or to book: www.sunsetgrillbar.com
KLEIN: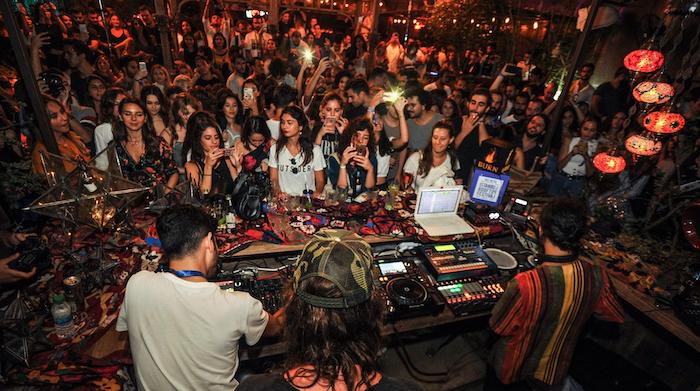 The most popular nightclub in recent times offers an evening until the early morning with DJs Orkun Bozdemir and Koray T. Don't miss it! For more info: istanbul_klein
BABYLON: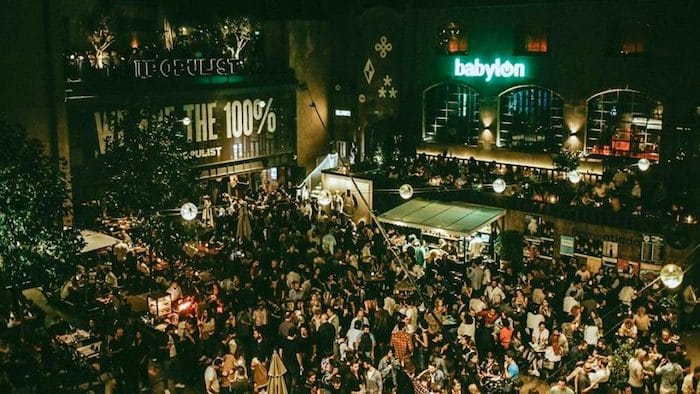 The legendary Istanbul concert hall located in the old Bomonti beer factory offers an "Oldies but Goldies" evening, where you can dance to classic hits from artists like Michael Jackson, Depeche Mode and Madonna. The art complex is made up of several restaurants, bars and art galleries that are worth seeing. The evening starts at 10 p.m., the entrance fee is 150 TL per person. You can buy tickets on the following link: babylon.com.tr
NARDIS JAZZ CLUB:
This club located in the Galata district offers, as every year, a must-see concert for all jazz lovers. For this evening the club offers a special "New Year" concert with Dila Bahar, Erdem Özkan, Barış D. Yazıcı, Önder Focan, Enver Muhamedi and Burak Cihangirli. The concert will start at 9:30 p.m. and end at 2:15 a.m. and the entrance fee is 180 TL per person. You can buy tickets at the ticket office, our advice, do not arrive late! The kitchen will also be open for snacks and schnitzel of chicken and meat. For more information: www.nardisjazz.com
IF BESIKTAS: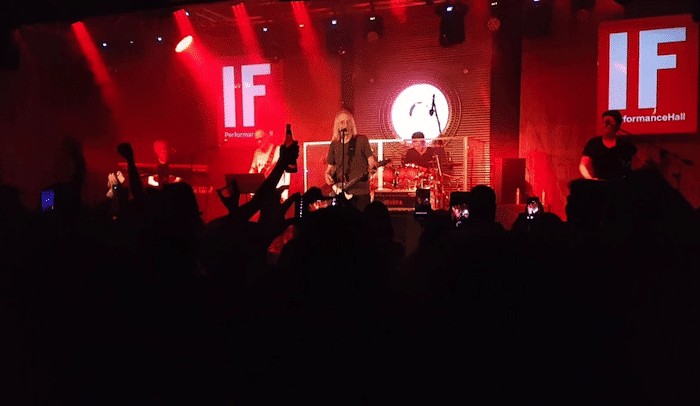 he recent concert hall in Beşiktaş, a popular, young, lively and pedestrian area in central Istanbul, is once again hosting a White evening. Specially created for Christmas Eve, you will find a white and snowy New Year decoration, a visual display on a giant LED screen with light and laser shows. 4 DJs will be present for the occasion. A nice evening where you can meet lots of local and international students. The price is 99 TL per person for the evening with a special "white" cocktail offered to those who will be dressed in white. For more information: http://ifperformance.com/new-years-eve/
LUCCA: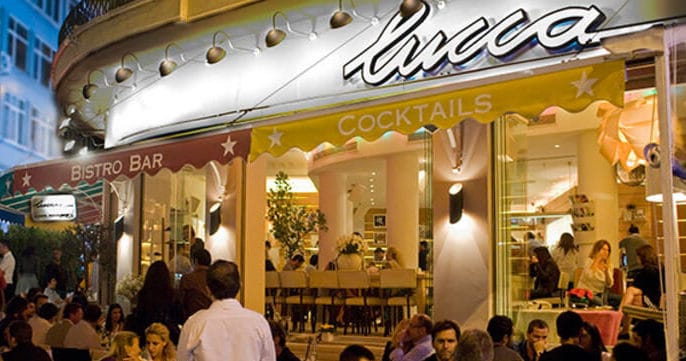 Lucca starts the day with its restaurant and turns into a chic bar after sunset. Located on the Bosphorus, in the rich district of Bebek. It's the perfect place to enjoy the trendy atmosphere of Istanbul's high society. Turkish and international DJs will liven up the evening until 2 a.m. For more information: http://www.luccastyle.com/
BINA: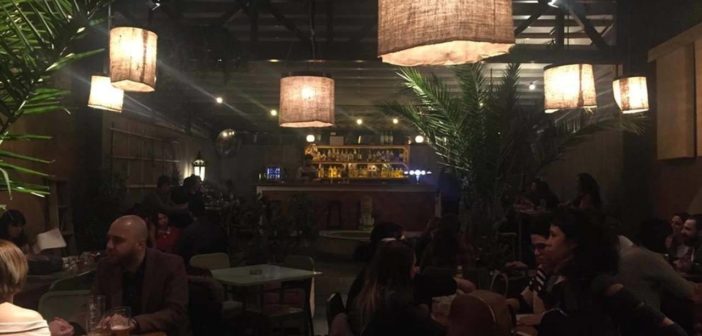 This rather relaxed and friendly bar is located in the Kadiköy district on several floors with a different concept in each of them offering concerts or exhibitions. It has an interior courtyard decorated with a fountain, palm trees and statues. A nice place to spend Christmas Eve with a good cocktail. For more information : https://www.instagram.com/bina.moda/
A new year in a more "intimate" restaurant  
ALAF:
Our latest find, this great restaurant in Kuruçeşme offers an exceptional view of the Bosphorus with the illumination of the first bridge. The atmosphere is rather chic and romantic with dim lights and open kitchens, the menu will delight gourmets who can taste Anatolian, Kurdish, Armenian and Yezidi specialties. For this New Year's evening, cocktails with special recipes and refined dishes cooked over a wood fire will be waiting for you. For more information: https://www.alafkurucesme.com/en/home
A local and 

relax

 New Year's Eve
If you want something simple and fun for the occasion, a good option is to go to restaurants serving Turkish cuisine, especially kebab or fish restaurants. These restaurants do not generally offer a "New Year" menu, and are characterized by their fresh produce and impeccable service. Remember to call to reserve.
DEL MARE: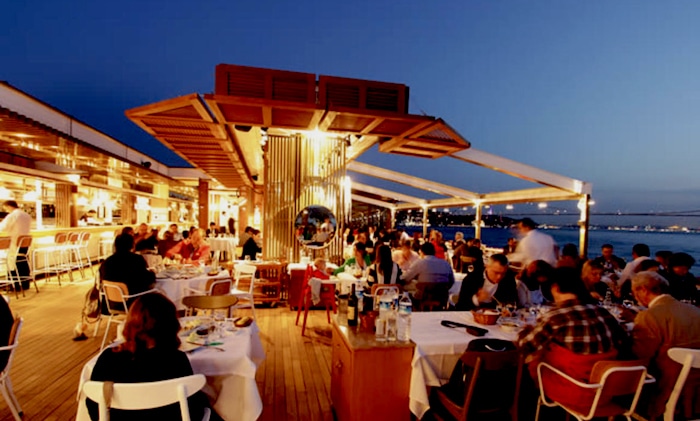 This very good fish restaurant located on the Bosphorus on the Asian side of the city offers a sensational view of the city and the strait. A member of staff picks you up and takes you back by boat from the European side (Kuruçeşme), which adds a touch of romance. For this new year, a special menu consisting of 7 starters and grilled bar fillet is offered at a rate of 370 TL per person with non-alcoholic drinks and an additional 10% for the service (407 TL per person) and 500 TL for the menu with a selection of unlimited local alcohol and an additional 10% for the service (550 TL per person).
KARAKOY LOKANTASI:
This restaurant is a real institution and also a safe bet, this historic tavern carefully renovated in beautiful turquoise colors is a must! The restaurant is comfortable, there is not much choice in terms of dishes, we recommend taking the mezze platter rather than fish, the value for money is excellent and the ingredients are very fresh. For more information: http://www.karakoylokantasi.com/
USKUMRU: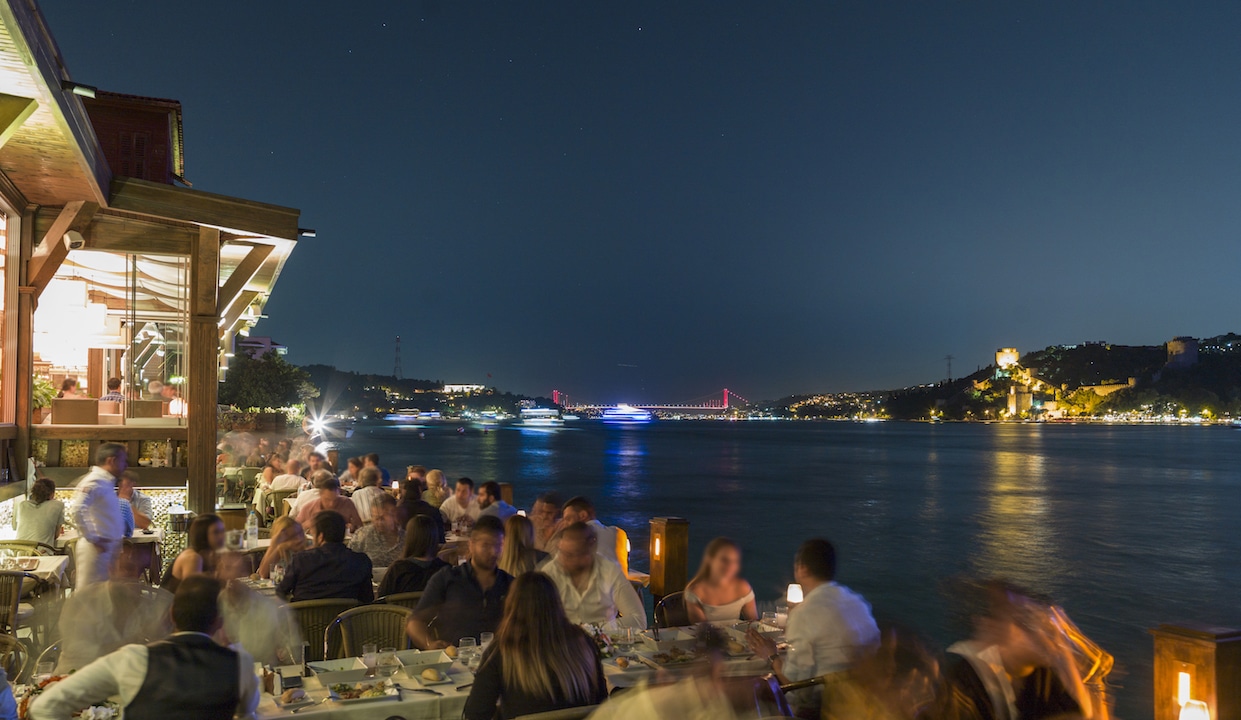 An exceptional place that is only accessible by boat. To get there, head to the quay at Rumeli Hisari to catch the boat that will take you to the other side of the Bosphorus shore. Uskumru does not offer a special menu for December 31. You can choose à la carte according to your wishes. Our favorite starters are sea bass with basil and squid with plancha with nuts.
Like Uskumru, discover our selection of fish and mezze (tapas) restaurants which also offer an à la carte choice for a typical dinner: https://www.tooistanbul.com/en/istanbul-fish-meze-restaurant/
Celebrate in a chic 

restaurant

 
BANYAN: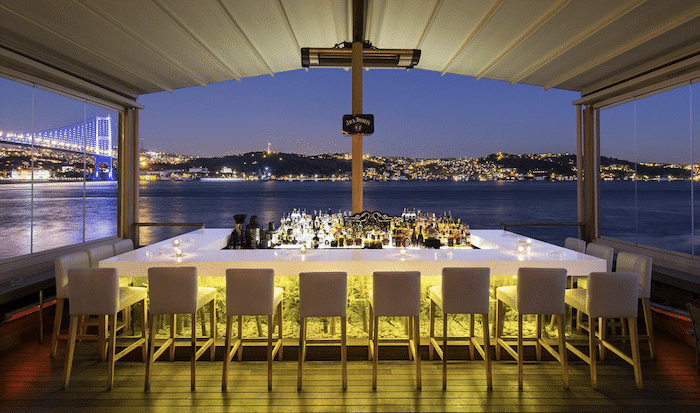 Located in Ortaköy, the Banyan Restaurant probably has the bar with the most spectacular view of the Bosphorus with the fabulous Ortaköy Mosque, the bridge and a glimpse of the Sultanahmet district. For this special evening, the restaurant offers Asian fusion cuisine with a special menu and an electro atmosphere by DJ Umut Yapgu at the price of 950 TL per person. More info on: banyanrestaurant.com
FIRUZE:
The very nice typical restaurant located in the Pera district with its magnificent view of the Golden Horn offers a special menu for this occasion at the price of 528 TL per person, with a selection of unlimited local spirits. On the program, the performance of a DJ and a menu consisting of 6 mezzes of meat and fish, a dish and a dessert. You will also find a nice bar (Monkey Bar) on the rooftop to continue the evening: firuze-iksv
DIVINE BRASSERIE:
This charming little unique brasserie located in the heart of Nisantaşı is renowned for its evenings of live jazz music! The establishment offers an impressive selection of local wines, as well as fast, high-quality service. As usual, the establishment will offer a live piano and a vocal performance for an intimate and warm atmosphere. On the menu, canapes of caviar accompanied by vodka, the specialty of the brewery which bread with dried fruits and sourdough with its aromatic butter, artichoke pâté and crispy bacon, pumpkin soup with almonds and ginger, baked baklava vegetable gratin with porcini mushrooms, turkey confit with red plum sauce and rice, and of course to finish off nicely, chocolate covered strawberries and champagne! The menu price is 550 TL per person. For more information: https://www.facebook.com/DivineBrasserieAndJazzClub/
A new year on the Bosphorus between two continents
New Years Eve in Istanbul is perhaps the only occasion during which we can recommend very touristy Bosphorus tours with shows and dinners included. Prices are between 125 EUR and 160 EUR per person.
During this evening you will then ascend the Bosphorus between Asia and Europe along the Ottoman Palaces, luxury villas and you can admire the panorama of Istanbul at night. The most is that you will be at midnight in the middle of the Bosphorus to start 2019 under the lights of the fireworks and the Bosphorus Bridge.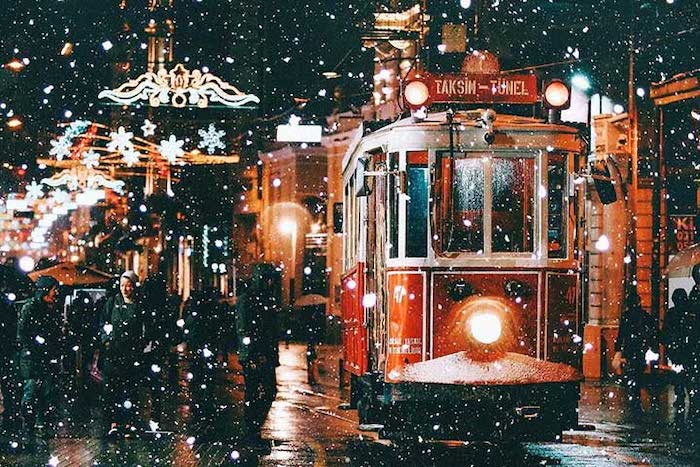 We wish you all the best in advance from the entire TooIstanbul team and we would like to thank all of our readers and valued customers of 2019!