WHAT TO DO, WHAT TO SEE IN JULY 2018?
In July 2018 in Istanbul you will find lot of nice activities like open air concerts, including some big names (Shakira, Wiz Khalifa, Worakls and many others ….), exhibitions but also festivals and other activities of any kind. Here is the program:
CONCERTS
July 3 – Avishai Cohen: the Israeli jazz bassist but also author and composer being often in Istanbul will be at Sultan Park in Swissotel Bosphorus .
July 3 – İrem Candar: the Turkish indie-rock singer is at Moda Kayıkhane.
July 3 – Eda Baba: the new rock diva mixed with the traditional Turkish song is on stage at If Performance Hall.
July 4 – Wiz Khalifa: American rap star Wiz Khalifa is at Küçükçiftlik Park for a concert not to be missed!
July 4 – Selda Bağcan: Selda Bağcan is an icon of Turkish music whose stance and activism have been of great concern to the Turkish government during her long career. Some of her songs have been sampled by rappers like Dr. Dre or Mos Def. She will be performing at the outdoor amphitheater Harbiye Cemil Topuzlu.
July 5 – Benjamin Clementine: the British songwriter and especially pianist, discovered in the Paris metro with his outstanding performances will be performing at the outdoor amphitheater Harbiye Cemil Topuzlu.
July 6 – R+R = Now: it's an American group of 6 musicians founded by Robert Glasper and Terrace Martin. The two men contributed to the music of Quincy Jones, Kendrick Lamar, Common, Kanye West, Mos Def and Q-Tip, just to name a few, and they partnered with jazz trumpet player Christian Scott, bassist Derrick Hodge and drummer Justin Tyson and multi-instrumentalist Taylor McFerrin to form R + R = NOW, an influential group of several musical genres, including jazz, soul, R & B and hip-hop . At UNIQ outdoors.
July 6 – Adamlar: the Turkish rock band with dark and catchy melodies will be at If Performance de Beşiktaş.
July 6 – Evrencan Gündüz ve Uzaylılar: the rising talent of indie / rock Turkish music, the young Evrencan Gündüz, will be accompanied by the Uzaylılar (extraterrestrials in Turkish) at Moda Kayıkhane.
July 9 – Ajda Pekkan: the diva of Turkish pop being in the top of sales for over 30 years is in concert at the open air theater of Harbiye Cemil Topuzlu.
July 11 – Angus & Julia Stone: Angus and Julia Stone is an Australian folk band composed of a brother and a sister. They will be at Zorlu PSM 
July 11 – Shakira: the Latina star of international pop will fill the Vodafone Park, Beşiktaş stadium, as part of its international tour, this evening of 11 July. Remember to buy your tickets in advance! For more information, click here: Biletix
July 12 & 13 – Sıla: the Turkish pop star will be performing at the open-air theater of Harbiye Cemil Topuzlu.
July 13 – Reggae Night Volume 2: If Beşiktaş concert hall organizes for the second consecutive year a reggae festival with the program of local and international artists. Do not miss it if you like reggae!
July 14 – Ümit Besen & Pamela: the famous Turkish pianist and composer singer will be at Sanat Performance Open Air with Pamela, one of the biggest rock singers of Turkey.
July 16 – The White Buffalo: the group known by the soundtrack of the TV series "Sons of Anarchy" will be in Turkey for the first time at Küçükçiftlik Park 
July 18 – Inna: the world-famous Romanian star of the electro-pop comes back to Turkey. She will be on stage at the open-air theater of Harbiye Cemil Topuzlu 
July 20, 21 & 22 – Big Burn Istanbul: Istanbul's biggest electronic music festival will be held at Suma Beach for 3 days. It is possible to camp in the festival.
July 20 – Fazıl Say: the Turkish pianist and composer known worldwide for his talent but also for his courageous stand against the government and religious dogmatism will play in the ENKA auditorium outdoors. His concerts are often sold out.
July 21 – Teoman: the great Turkish rocker is in open air concert Sanat Performance. 
July 23 – Yıldız Tilbe: one of the greatest singers of Turkish pop will be at the open-air theater Harbiye Cemil Topuzlu 
July 26 – Khontkar & CEG: the young Turkish rap star is back after a short break. He will be in an open air concert at Sanat Performance.
July 27 – Joe Satriani: the great American guitar virtuoso will be on stage to impress her Turkish fans at Küçük Çiftlik Park, followed by Pentagram, the legendary Turkish heavy-metal.
July 27 & 28 – Parkfest: the 4th edition of the festival will take place this time at Volkswagen Arena & Uniq Open Air Theater. On the line-up: the Canadian group Caribou, the electro-swing group Boogie Belgique, the French DJ and producer Degiheugi as well as the group of Turkish electro-pop music Büyük Ev Ablukada and other little surprises…
July 28 & 29 – Istanbul Electronica Festival: it is one of the great electronic music festival of the summer, it will be held in Kafes, a beach in the north of the city. On the menu, there are a lot of people who love electro: Adana Twins, Worakls, Joachim Pastor, Ilario Alicante and many more! For more info: www.electronicafest.com/
July 28 – Mabel Matiz: the alternative Turkish pop singer with his own baroque world is in concert at the open-air theater of Harbiye Cemil Topuzlu.
Meanwhile out of Istanbul:
July 20-21 – Bodrum Chillout Festival: 
Istanbul FM Radio Lounge organizes the annual Chillout Festival at Xuma Beach in Yalıkavak, Bodrum. What more can you ask for than listening to good music in a small creek in the Aegean Sea? For the line-up and more information : www.chilloutfest.com
July 27 – 29 – Bozcaada Jazz Festival: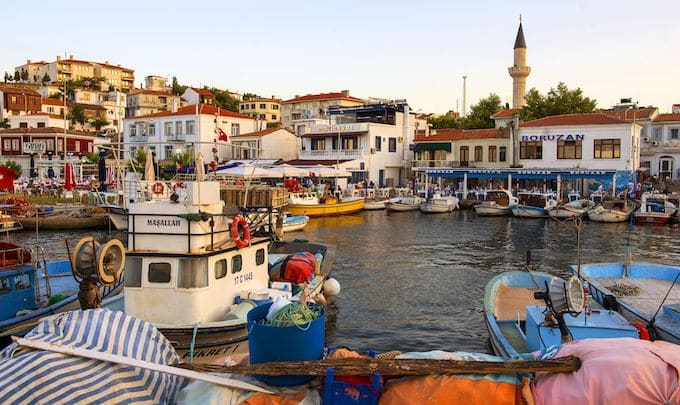 Bozcaada is a small island in the Aegean Sea, beautiful because very wild and you have several activities on site like scuba diving, beach, walking on scooter or on foot but especially tasting Corvus wines that are considered one of the best Turkish wines. In addition to that, the food on the island is succulent, all the small taverns of the main village offer fresh and well prepared products at a medium price. Moreover, between 27 and 29 July is held the island's jazz festival gathering local and international artists, not to be missed! For more information visit the official festival page: www.bozcaadacazfestivali.com
FESTIVAL
Until 9 July: Kadiköy Street Art Festival: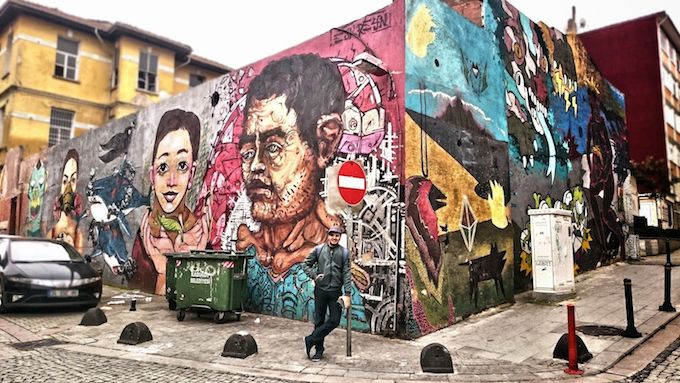 The Kadıköy Mural Festival, organized by the municipality of Kadıköy and organized for the seventh consecutive year, will continue until 9 July. At the festival many international street art artists have responded present to color around 1,250 square meters of the walls in the neighborhood. You will find more than 32 walls in total with original works in the area! Contact us for more info.
Until September 11 – Uniq Outdoor Film Festival: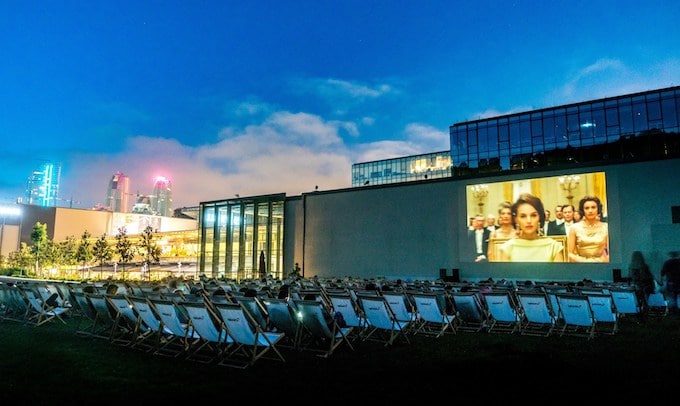 The UNIQ Open-air Film Festival, which leaves its mark on every summer, will continue to enchant cinema lovers this year, too. The festival, which will be held for the fourth time this year in cooperation with UNIQ Istanbul and Başka Sinema, will aim to satisfy cinema lovers with quality movies between June 5 and September 11. On the program you will find Oscar-winning films, indie movies, but also horror films and comedies from around the world. All films will be in original versions with subtitles in Turkish. For more info: www.uniqistanbul.com
EXPOS
Until August 26, 2018 -Istanbul's Seaside Leisure: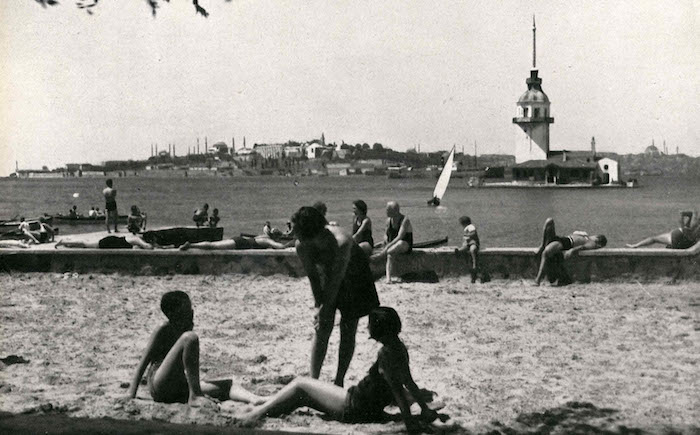 The First World War has critically shaped and transformed the relations of Ottoman society with the sea. Swimming in the sea was before considered a private act and even illegal for a long time, despite the progressive influence of the West. During the second half of the 19th century, residents of a waterfront city like Istanbul had to settle for "sea bathing" surrounded by wooden panels. While secularism has been embraced with the foundation of the Turkish Republic; a sense of individuality has become socially visible and free, leading to a more intimate relationship with the sea.
Istanbul's Seaside Leisure tells a nostalgic story; while addressing the radical changes in the social norms of the city and the use of their free time by Istanbulers. Istanbul's Seaside Leisure is a documentary and a testament to the radical transformations that have taken place in the lifestyles of the Turkish Republic. In Pera Muzesi.
For other activities that we propose in July 2018 click here!