Discover with us the Bosphorus at sunset
During this 3-hour cruise, you will discover the Bosphorus Strait which is for us the main wealth and beauty of Istanbul, it is quite simply a magical place that makes Istanbul unique by being the only city in the world located on two continents.
Connecting the Sea of Marmara to the Black Sea, it stretches for 32km and crosses all of Istanbul. Since the 1980s, the ban on building on these shores has made it a true oasis of greenery in a sprawling city.
We will start the tour from the Golden Horn facing the old town and its mosques, we will then go up the Bosphorus passing under the two bridges which connect the European bank to the Asian bank. You will discover several symbols of the city like the Dolmabahçe Palace, the fortress of Rumeli Hisarı as well as very beautiful yalı – these are the beautiful mansions that line the strait.
Further north of the Bosphorus you will also discover the most-chic districts of Istanbul such as Beykoz and Yeniköy from where you can admire the most beautiful yalı. Some of them are real selling palaces that sell at exorbitant prices. During this cruise, you realize the vastness of the city by admiring sumptuous panoramas.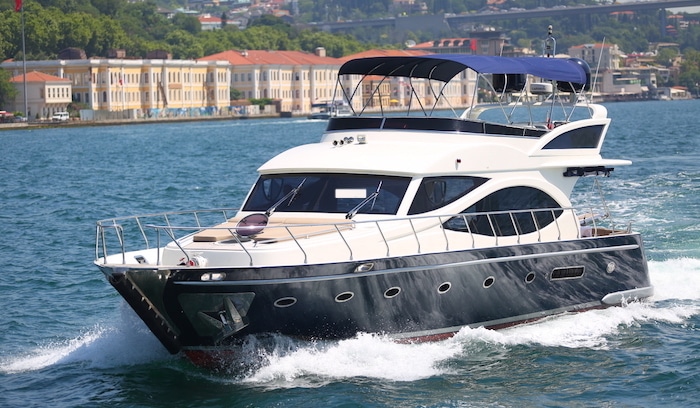 This cruise will take place at the end of the afternoon, installed on a comfortable boat we will tell you about the Bosphorus by sharing an aperitif with local products like wines, cold meats and cheeses, olives, good bread and various dried and fresh fruits.
MORE INFORMATION :

The 3-hour cruise takes place in the late afternoon. The schedule varies according to the season.

We welcome a maximum of 12 participants

The aperitif is included. You will discover the products of the Turkish soil with beers wines, cold cuts, cheeses, and dried fruits.

The price is 60 € per person and includes the 3 hours cruise, the aperitif and the services of the guide.
WANT TO JOIN US ?