What are the most beautiful swimming pools in Istanbul?
Summer in Istanbul is very warm, especially in July and August. During your stay, you will wonder how you can refresh and relax in a city that never stops. A good idea may be to go to the pool or beach (find our article on the most beautiful beaches in Istanbul).
The entrance fees of outdoor pools are often quite high, however, it is often justified by their exceptional location and high-quality service. In some of them, you will also have access to the spa, sauna, and other facilities for a full relaxing day.
Here's our selection of the best pools in Istanbul:
CONRAD ISTANBUL BOSPHORUS HOTEL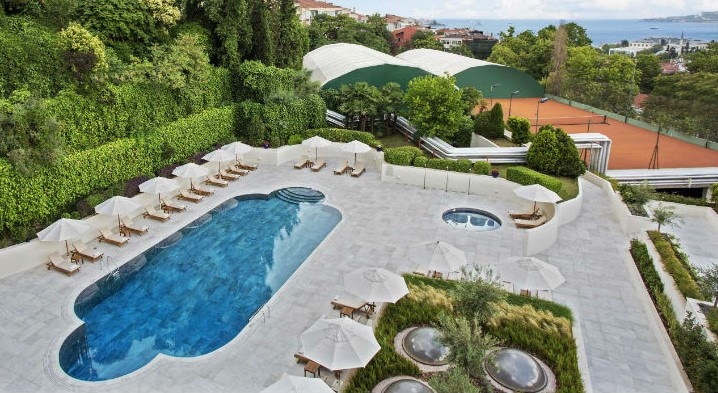 Beautiful and spacious pool located in a hotel next to the Bosphorus. You can enjoy the bar in addition to the swimming pool.
Prices: 800 TL per person (1400 TL for two), 1200 TL in weekends (2000 for two). Children from 3 yo to 6 yo get 50% off on the full price.
Address: Barbaros Bulvarý Yildiz Street, Besiktas, İstanbul
Website: Conrad Istanbul Hotel
Phone number: +90 212 310 25 25
SWISSOTEL THE BOSPHORUS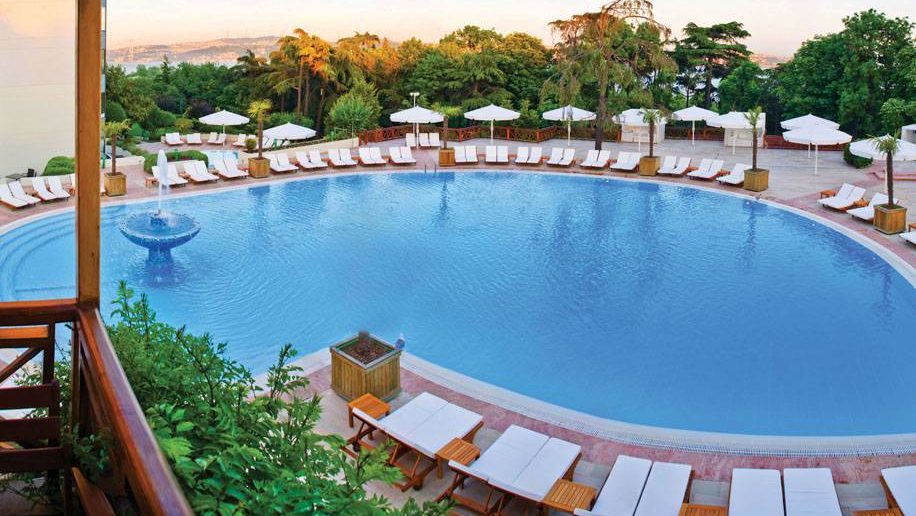 Beautiful swimming pool in the large Swiss hotel's park close to Dolmabahçe. You can also have lunch in the restaurant at the poolside, who serves very good grilled meats over a wood fire.
You will also have access to the Spa & Sport Services and a wellness area and fitness facilities.
Prices: 850 TL on weekdays and 990 TL on weekends, from 6:30 am to 11:00 pm.
Address: Maçka Talim Yeri Sk, İstanbul
Website: Swiss Hotel Bosphorus
Phone number: +90 212 326 29 90
ÇİRAĞAN PALACE KEMPINSKI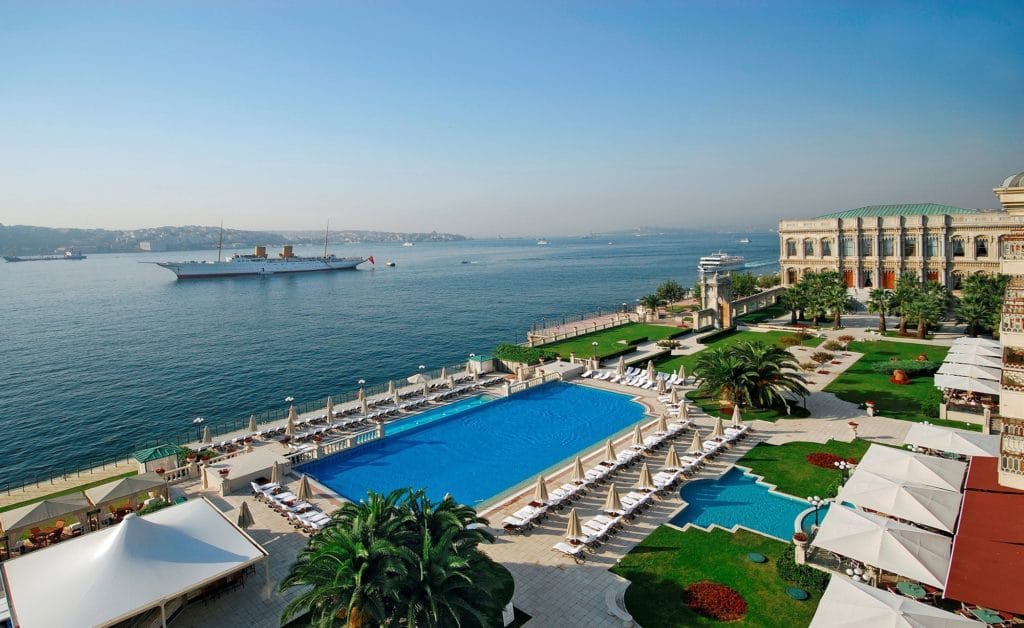 Located in the upscale Çiragan Palace, this pool is on the Bosphorus. The entrance also allows you to enjoy the indoor pool, sauna, and gym.
Prices: 250€ per day including lunch. Reservation required.
Address: Yıldız, Çırağan Cd. No:32, Beşiktaş, İstanbul
Website: Çirağan Palace Kempinski
Phone number: +90 212 326 46 46
GRAND HYATT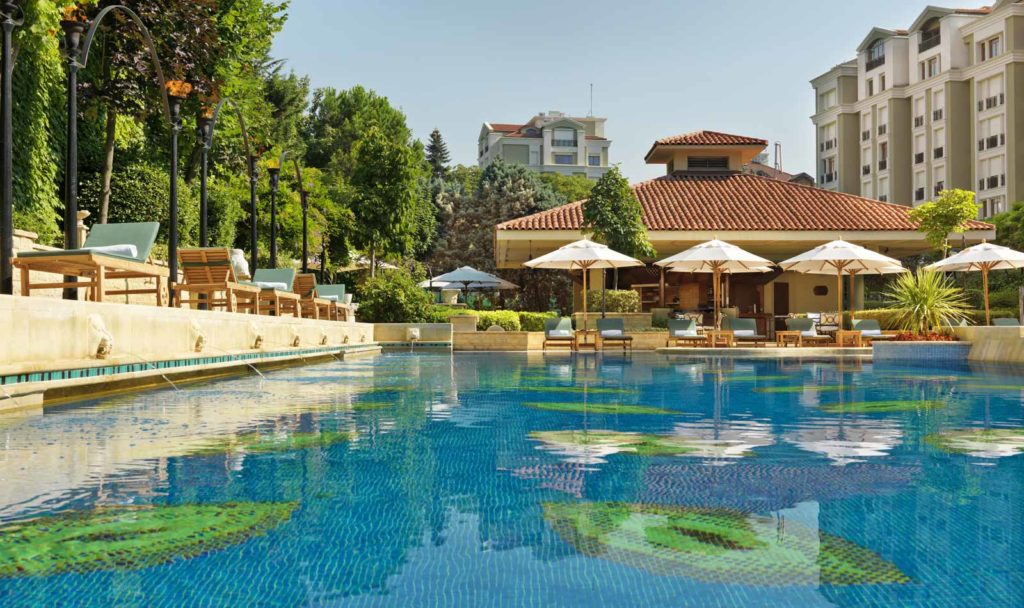 Located in the Grand Hyatt Hotel next to the famous Taksim Square, this pool is perfect when the wheater gets warm in Istanbul.
Prices: 50 euros per person. Open from 9:00 am to 7:00 pm with reservation.
Address: Harbiye Mah. Taskisla Caddesi No.1, Şişli, İstanbul
Website: Grand Hyatt
Phone number: +90 212 368 12 34
INTERCONTINENTAL ISTANBUL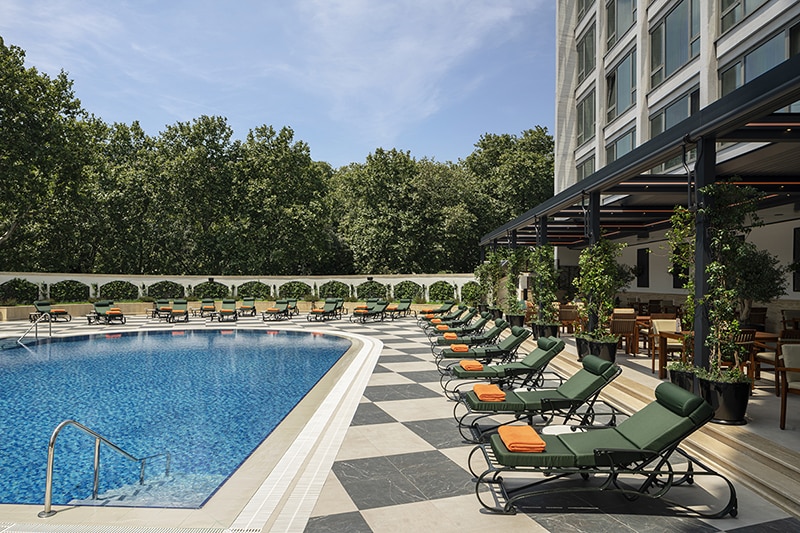 This great pool located in the InterContinental Hotel is close to the Taksim square. It's great, especially in summer days.
Prices: Please contact the hotel
Address: Asker Ocağı Cad. No:1 Taksim, İstanbul
Website: InterContinental Istanbul
Phone number: +90 212 368 44 44
THE GRAND TARABYA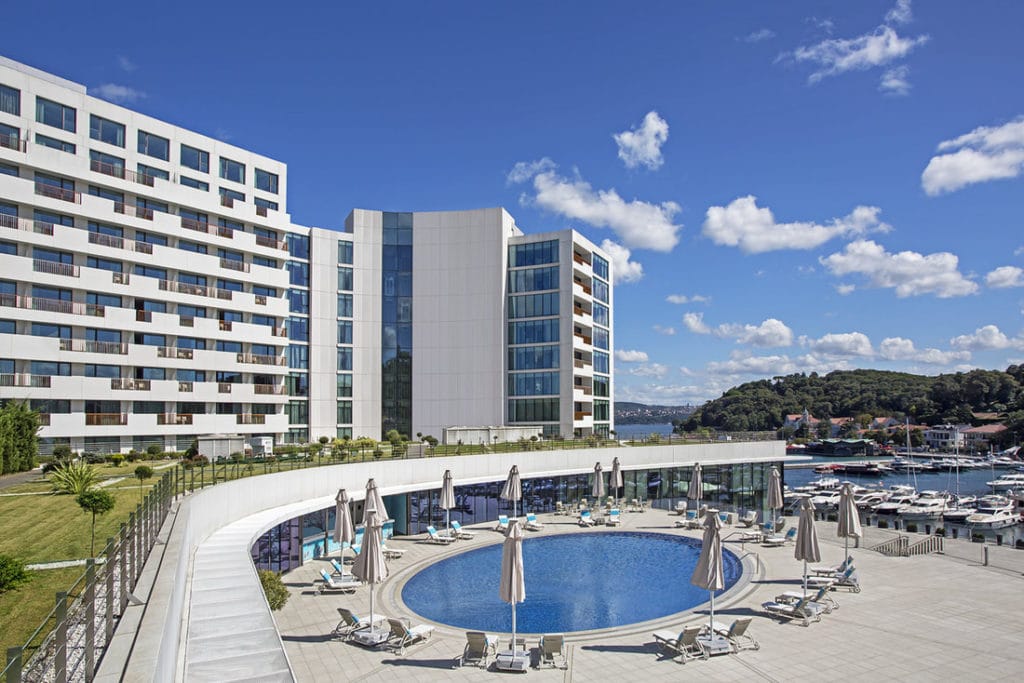 Open between 9 am and 8 pm, it is a beautiful swimming pool in the best hotel in Tarabya, a small cove located north of the Bosphorus. More than the pool, you will have access to the spa, fitness, sauna, and steam room.
You can enjoy lunch in the hotel bar, the Pool bar, also serving excellent cocktails and soft drinks.
Price: Closed right now. İt will probably open in July or August.
Address: Kireçburnu Mh., Haydar Aliyev Cd No:74, İstanbul
Website: The Grand Tarabya
Phone number: +90 212 363 33 00
Feel free to share your thoughts on your day at the pool in the comments.