Escape to Istanbul: discovery of a cosmopolitan city
Centuries of history for a city steeped in diverse cultures, traditions, and ideas. A former city of sultans and the most European city in Turkey, Istanbul is cosmopolitan, energetic and bustling, and represents a true laboratory of the "Turkish Movida" for its nocturnal atmosphere. This weekend is an invitation to explore the rich past of a city that bears witness to the passing of communities that have contributed to its identity such as the Greeks, the Jews, the Armenians, or even the Kurds, then to reveal the new intellectual currents resulting from an Istanbul youth in search of recognition and openness to the world, far from the cliché of romantic Orientalism.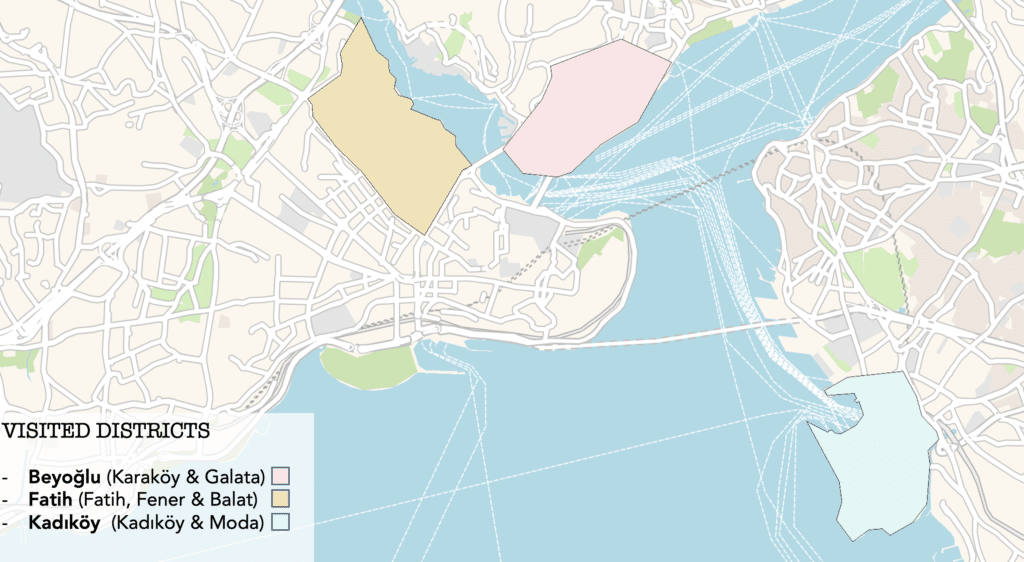 ---
TRAVEL PROGRAM
DAY 1 – Arrival at Istanbul Airport and private transfer service
A vehicle with a private driver will meet you at the airport (Istanbul International Airport or Sabiha Gökçen Airport) to take you to your hotel or apartment where you will be staying during your trip.
DAY 2 – Discovering Istanbul's communities and contrasts off the beaten track
Byzantium, Constantinople, and Istanbul have always been a bridge for the populations between Europe and Asia, which made it an extremely cosmopolitan city. The various religious communities who lived there for centuries left a permanent legacy, still visible today thanks to the architecture and the religious monuments. After the fall of the Ottoman empire in 1923, those communities left progressively and were replaced by rural Turks coming from all over Turkey. These new inhabitants transformed these districts by importing their way of life. Today, they are pieces of Turkey inside of Istanbul and are contributing to its diversity.
The tour will start with the Fatih neighborhood, which is one of the most conservative and laden with history neighborhood of the city. Here, the first sultan who conquered Constantinople in 1453 (Mehmet II, also called Mehmet the conqueror) erected the masterful complex of the Mosque of Fatih, where it is buried., where is he buried. The area is now populated by Turks from regions where religion is fundamental. You will be intrigued by the dedication and the very pious lifestyle of the inhabitants.
We will then go to Fener and Balat neighborhoods on your way down to the Golden Horn. Populated by Greek and Jewish communities since the Byzantine empire, there are among the most fascinating of the city. In a maze of alleys, you will see beautiful typically ottoman wooden houses, in addition to religious monuments such as churches and synagogues.
Inhabited by a less conservative population than Fatih, those neighborhoods give the feeling of being in a village. Life happens outside, children play soccer on the streets, merchants chat in front of their shops drinking tea, men play cards in the cafes. It is very lively and relaxing at the same time. We will also visit the Orthodox Ecumenical Patriarchate of Constantinople and the Saint Georges church, which is the supreme holder of the religious authority for hundreds of millions of Orthodox all around the world.
DAY 3 – Istanbul's Asian Shore: half a day in Kadıköy, the city's new cultural and arty center
Kadiköy, formerly called Chalcedon, was a city constructed before Byzantium by those who were called « blind » by King Byzas. Today, it is a lively district at the heart of Istanbul. It is here, in this fief of the political opposition and of the Fenerbahçe soccer club, that the country's culture is always reinvented for centuries. Many artists, rockers, actors, writers, musicians, and drawers went through Kadiköy and they founded a full new culture.
Nowadays, the district is attracting all kinds of people due to its economic vitality but also the great quality of life that it offers to the newcomers. The visit will start by the arrival by boat in the çarşı – market in English – in which locals abound at any time. This market is an incredible bazaar that mixes tradition and modernity. There, you will see cafes and hipster shops next to an incredible fruit, spices, fish, and traditional pastry market.
The Kadiköy district also represents a real intellectual vortex; during this tour, you will learn more about the career of those exceptional artists. You will learn about the Ebru culture, this ancestral Turkish tradition of water marbling art, which can be seen in many fields nowadays, such as fashion, cinema, or contemporary art. We will also learn about the rock and lefty culture of the neighborhood by meeting locals.
We will end the tour by the Moda neighborhood, the so-called « Brooklyn of Istanbul » characterized by its creativity and its way of life.
DAY 4 – Private airport transfer and departure
A vehicle with a private driver will transfer you from your hotel or apartment to the departure airport (Istanbul International Airport or Sabiha Gökçen Airport).
OUR SUGGESTIONS TO PERFECT THIS TRIP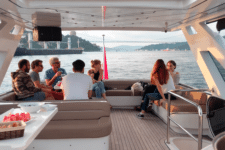 SMALL GROUP APERITIF CRUISE ON THE BOSPHORUS: Embark in a small group with the Too Istanbul team on a private boat for a 3-hour cruise between Europe and Asia. An unmissable moment to experience at sunset by sharing an aperitif of local products while discovering the history and anecdotes of a thousand-year-old city, as well as its topicality in the company of a passionate guide. Get to know more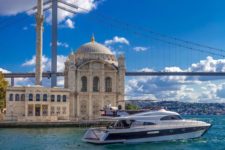 PRIVATE CRUISE ON THE BOSPHORUS: A boat trip to Istanbul is an unforgettable moment. Sail the waves of the Bosphorus in the company of an experienced crew and get a closer look at the two mythical suspension bridges of the megalopolis, the historic buildings, and the luxurious wooden houses, remnants of the Ottoman Empire. Get to know more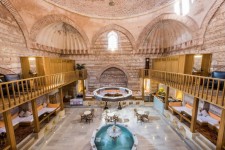 MASSAGE IN THE HÜRREM SULTAN HAMMAM: Turkish baths remain a strong image for travelers and a unique experience. Indulge in a 45-minute massage at the Hürrem Sultan hammam, a 16th-century gem, located between the Blue Mosque, the ancient Hagia Sophia, and the Temple of Zeus. Get to know more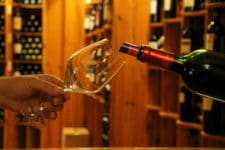 WINE TASTING IN BEYOĞLU, IN THE HEART OF ISTANBUL: Shiraz, Narince, Emir, Öküzgözü and many others… Let yourself be tempted by a break in one of the wine cellars of Beyoğlu, in the heart of Istanbul, to taste Turkish wines with very varied grape varieties from different regions of Turkey and discover the modern face of this wine country. Get to know more
---
What awaits you during this stay:

---
ESTIMATED BUDGET
The budget may vary depending on the type of visit chosen. Indeed, we offer this program of visits with small groups or privatized. The average budget per person for this weekend is €180 for group visits, and €285 for private visits. Private boat rental and airport transfer rates do not affect additional guests who wish to travel with you (valid for a limited number of people). Our team will offer you a quote according to a personalized program.
The price does include:
– Airport transfers
– Program visits and activities
– Transport as part of visits
– Tickets to the monuments
– Typical breakfast during a half-day visit to Kadıköy, Asia
– The services of the English-speaking guides who will accompany you during the visit
The price does not include:
– Tickets for your international and domestic flights
– Accommodation (on request only)
– Drinks and personal expenses
– Insurance
---
YOUR PERSONAL TRIP
This travel proposal is 100% customizable according to your desires. You can change the length of stay, accommodation, activities, and services. Our team will accompany you to organize your perfect trip!
---
HOTELS & CONCIERGE SERVICE
Hotels 
We offer you to book your accommodation at the best offers on a selection of hotels in Istanbul according to your desires, your needs, and your budget.
Our selection offers different types of hotels including major international hotel chains such as Park Hyatt Istanbul, JW Marriott Istanbul Bosphorus, palaces along the Bosphorus such as Çirağan Palace Kempinski, Four Seasons Bosphorus, or even the more intimate boutique hotels, such as the House Hotel Karaköy, the Georges Hotel Galata, and the trendy and sophisticated DNA, including the Soho House Istanbul among others. Let us know your criteria, and we will send you an offer according to your desires for a successful trip.
Concierge service
You want an address for a restaurant, expert advice when traveling and shopping in the city, or have a specific request for us, make a request for our English-speaking concierge service. This service can be contacted every day during your stay.
---
BOOK YOUR TRIP!
Our team will customize your request for a tailor-made trip.