Kebab ("kebap" in Turkish) means "roasted meat" and refers to various grilled meat or fish dishes.
Originally from this part of the globe, the meat is cooked on a wood-fired kebab and then served on a plate, usually accompanied by braised tomatoes and peppers, rice or tomato bulgur. It can also be served in a sandwich or rolled in a wrap. There is a very wide variety of kebabs in Turkey, the most famous ones are the şiş kebab (skewered and grilled lamb), the Adana kebab (skewered minced lamb mixed with spices), the Urfa kebab (skewered minced lamb and beef without spice ), the patlıcanlı kebab (eggplant stuffed with minced lamb) and many more.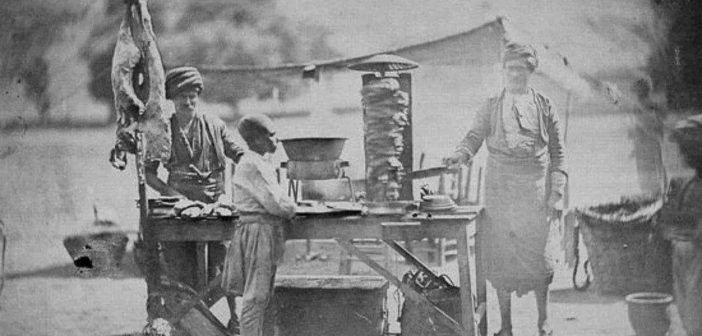 The most famous kebab in the world is the döner kebab, which literally means "rotating kebab". Before taking its modern form, the ancestor of the döner was the çag kebabı and it's mentioned in the Ottoman travel books of the 18th century. It was a horizontal stack of meat from the eastern province of Erzurum.
The famous cook İskender Efendi is considered as the inventor of the döner kebap, in his own family biography he wrote that he and his grandfather had the idea to roast the lamb vertically rather than horizontally because of the dropping juice of the cooking marinated at the same time the whole stack of meat, giving it a better taste.
Before giving you our addresses, here is a little guide to what we recommend you taste:
– Adana kebab: It is a long hand minced grilled lamb meat, juicy and spicy.
– Cöp şiş: It is a specialty of Ephesus on the Turkish west coast. This is pounded boneless meat with tomatoes and garlic, marinated with black pepper, thyme, and oil on wooden skewers. This dish is traditionally accompanied by rocca leaves.
– Şaşlık: It is thin slices of beef and onions marinated in yogurt and put on a skewer, usually cooked to perfection to give a soft texture to the meat
– Testi-kebab: It is a specialty of Cappadocia. It is a combination of meat and vegetables cooked in their own juice inside a sealed clay pot. When ready, breaking the clay pot is the only way to eat it.
– Köfte: There are meatballs of lamb or beef or sometimes both, mixed with spices and onions. There is a wide variety of koftes such as the inegöl köfte (mix of lamb and beef), the Tekirdağ köfte (meat of cattle and lamb chops served with a red pepper sauce) and even kaşarlı köfte (cheese-stuffed köfte).
– İskender kebab: Traditionally lamb meat fed with thyme from Uludağ. It took its name from the cook İskender and it's a kind of döner kebab prepared from thin cuts of grilled lamb, basted with hot tomato sauce over pieces of pita bread and generously slathered with melted sheep butter and yogurt.
Istanbul residents are proud of their cuisine and love to go to the restaurant. You will find a large number of restaurants specialized in kebab and you will be able to find somewhere you like whatever your budget is.
From the very local caff for lunch to the more upscale restaurants adapted to make a beautiful dinner with great service, here is our selection of the best kebab restaurants in Istanbul:
BAYRAMOĞLU

Located in Kavacık on the Asian side, it is certainly the best döner kebab in Istanbul. The taste is amazing, it is simple (one only choice) and cheap. People come from far away and wait in line to eat a delicious döner kebab here. Although the place isn't fancy at all, local celebrities or other businessmen often go there for lunch because it's really very very good. At Bayramoğlu the meat is 100% beef, and the quality deserves the long road!
Website: http://bayramogludoner.com.tr/
HAMDİ

Perhaps the more touristy but still mythical. Istanbul kebab restaurant, the Hamdi restaurant is since 1960 nestled at the top of a building next to the Egyptian bazaar. On the menu: mezes and kebabs from the south-east of Turkey with an amazing view of Istanbul.
Website: hamdi.com.tr/en/eminonu
ADANA OCAKBAŞI KURTULUŞ

This restaurant is an ocakbaşı, which means "in front of the grill" because they cook the meats in front of you. The Adana Ocakbaşı is located in the Kurtuluş district, a cosmopolitan middle-class neighborhood next to Taksim. Here you will eat excellent grilled meats in an authentic atmosphere. On the match evenings, the restaurant is filled with groups of friends who have come to support their team while eating. A place that is absolutely but worth seeing.
Website: adanaocakbasi.com
ŞEZHADE ÇAĞ KEBAP

This is certainly one of our favorites from the list, this little restaurant serves only the çağ kebab, a specialty of Erzurum, a city in northeastern Turkey, and beware, it's a delight! The çağ kebab is a marinated lamb in a sauce with basil, pepper, and onions, put in spit and cooked horizontally. It's really not to be missed!
Address: Şezhade-Çağ-Kebabı
NUSR-ET

We cheat a little because it's not really a kebab restaurant, but how to talk about Turkish meats, without mentioning Nusret Gökçe, the Turkish butcher you all know as Salt Bae? In a few years, he has become an international star and now has restaurants all over the world (New York, Miami, Dubai…). The meat star to the 26 plus million followers on Instagram has several delicious meat restaurants in Istanbul under the name of Nusr-et, and the quality of the meat is definitely worth the detour, especially since it also makes Turkish specialties!
Website: www.nusr-et.com.tr/en/home.aspx
ŞEYHMUZ KEBAP SALONU

In the district of Sultanahmet, near the Grand Bazaar, this place is not to be missed. The dishes are specialties of the city of Mardin (city of Eastern Turkey known especially for its meat and pistachios). All meats are prepared with a special method of grinding with a zırk, a rounded double handle knife. The kebab, mixed with herbs and spices, comes in the traditional elongated form with a selection of cold and hot starters.
Address: Mollafenari Mah.Medrese Sk.No:2 Çemberlitaş
ADANA YÜZEVLER

Located in the trendy district of Etiler, this is the place to go if you want to try a tasty Adana kebab. The owner is from the city of Adana, the fifth-biggest Turkish city. The ambiance is cozy and the waiters will be more than happy to help you with your order.
Website: www.yuzevler.com.tr
BEYTİ

Located in Florya (near the former Atatürk airport) the restaurant is one of the oldest kebab restaurants in Istanbul. Although a bit far from the city center, this place is worth a visit! It is luxurious and more expensive than an average kebab restaurant. Go for a beyti kebab, a specialty invented in the kitchen of the restaurant.
Website: http://www.beyti.com/en/
ZÜBEYİR

Located close to Taksim Square, this restaurant is an ocakbaşı (restaurant with an open grill in the middle). The main attraction of this kind of establishment is to eat around the grill. You may have to book before going there because the seats next to the grill are always taken. In this area, you will find many other Ocakbasi but for us, this one is the best. Start with ordering some mezes, we suggest you try the közde patlıcan (mashed grilled eggplant), a gavurdağı salata and the Van tzatziki. for the main course try a çöp şiş or a sebzeli acılı şiş kebab (skewered meat with spices and vegetables), and, of course, accompany your meal with some cold rakı.
Website: www.zubeyirocakbasi.com.tr
AND ALL THOSE WHO HAVE NOT BEEN MENTIONED…

There are hundreds of good kebab restaurants in Istanbul, (it would take years to taste all of them) that we have not written but are just as good! Do not hesitate to go to chains like:
Do not hesitate either to tell us about all your discoveries!
To discover in more depth the Turkish cuisine, and also to discover local neighborhoods like Besiktas and Uskudar, you can take part in our culinary and cultural walk on two continents.