There are nearly 18,000 taxis ("Taksi") in Istanbul, you can easily recognize them thanks to their yellow color. Taxis are available throughout the city at any time of the day or night. Using taxis in Istanbul is a commonplace. As in every city in the world, taxis in Istanbul have bad reputations, especially those located in very touristic areas such as the old city, airports or Taksim Square.
In Istanbul, taxis all have a taximeter; in 2022, the meter starts at 9,80 TL and increases 6,30 TL per km. One taxi ride costs a minimum of 28 TL. Even if we consider that the majority of taxis are rather honest and reliable, there are unfortunately some (especially in the touristic areas) which are really unscrupulous.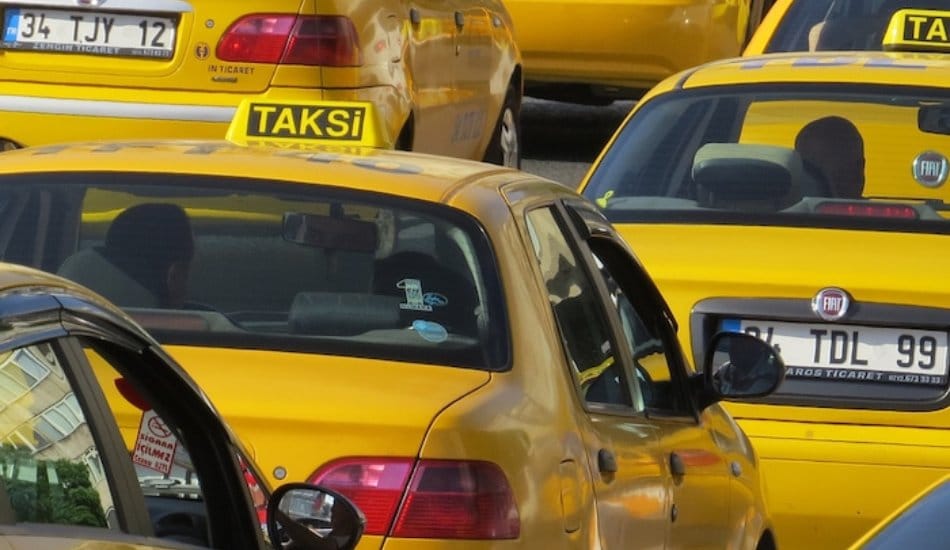 Here are some tips to help you avoid the most common pitfalls:
– Avoid paying with big bills. One of the most frequent scams happens when you pay. We advise you to use small bills.
– Check the meter when getting into the taxi. Taxis in Istanbul all have meters, if the taxi tells you the price of the ride without putting it, we recommend you go out and take another one.
– Tipping is not mandatory, ask for change. Sometimes, the taxi driver will tell you that he has no change. It is not customary in Istanbul to tip the taxi unless it has helped you with your luggage, or has been particularly nice. If you insist on your change, he will go quickly to a small shop or grocery and give it to you.
To estimate the price of the trip, check out this website: http://taksiyle.com/en
Approximate prices of taxis in Istanbul (prices can change a bit depending on traffic jams and/or your exact destination).
From Istanbul new Airport – European side:
to Sultanahmet — 350 TL
to Taksim — 350 TL
From Sahiba Gökçen Airport – Asian side:
To Sultanahmet — 450 TL
To Taksim — 400 TL
From Sultanahmet (the old town):
To Taksim: 50 TL
To Fatih: 35 TL
To Beşiktaş: 55 TL
To Dolmabahçe Palace: 48 TL
To the Galata Tower: 35 TL
To Nisantaşı: 65 TL
To Ortaköy: 75 TL
To Bebek: 100 TL
From Taksim:
To Fatih: 45 TL
To Beşiktaş: 35 TL
To Dolmabahçe Palace: 25 TL
To Nisantaşı: 45 TL
To Ortaköy: 55 TL
To Bebek: 70 TL
Another (more expensive) way to get around the city quickly is to use sea taxis ("deniz taksi"). They are bookable 24 hours a day, 7 days a week and take you from one jetty to another in record time. To book a "deniz taxi" (10 people maximum) call 444 44 98.