Where to go out at night in Istanbul?
Istanbul is a city that never sleeps, if you like to party you will not be disappointed!
With over 15 million inhabitants in Istanbul and 10 million tourists annually, Istanbul is fully equipped for entertainment and everyone can find is own happiness in its diverseness. There are a great number of bars, nightclubs and concert halls, trends change rapidly, a trendy venue may lose its prestige quickly.
We propose you a short guide to Istanbul's nightlife where we'll give you the best places to go out in Istanbul. We realized that most of the places recommended by classic guides are often outdated, or worse, no longer exist !!!
To start you must know that we do not party in the same places depending of the season. During summer the clubs open their terraces on the Bosphorus and on  rooftops and you have many open-air festivals. You'll enjoy magnificent views of the city while having fun. The winter is cold and the big clubs of the Bosphorus close their terraces, the party scene is more in the heart of the city in small underground clubs and bars.
WHERE TO GO OUT IN GENERAL:
Between the classics, the new trendy venues and the Turkish cabarets; nightclubs and bars of Istanbul will hold no secrets for you. The addresses in this section don't include those of the district of Beyoglu which is the center of the party in; Istanbul district which we devoted a special section below. Click on the image below to discover our adresses:
BEYOGLU:
This is the city's party hub, in the streets of the neighborhood of Asmali Mescit or Karaköy you will find a plethora of bars open all week and all year. On weekends the streets are full, find your way can be a little difficult, but the atmosphere is really nice and casual. click on the image below to discover our adresses:
SUMMER'S SPECIALS:
From May until late October the sunny days are back! Istanbul is transformed into a seaside city, the neighborhoods on the Bosphorus are raided by the population and the big clubs open their terraces offering exceptional views of the Bosphorus and the Asian shore. Partying on the Bosphorus is a unique experience. Some rooftops of the city center are also dedicated to clubbing, giving exceptional views of the city! For addresses, click the image: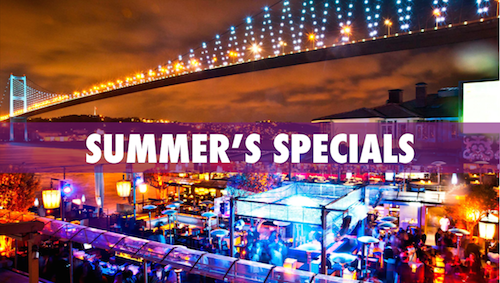 Share your comment with your experiences and favorite adresses in Istanbul. For information on reservations, dress codes or other request, contact us.