During the Summer Istanbul is a little quieter , there is less congestion because many Istanbulians take refuge on the south coast . In addition to the historical parts of the city, you may be tempted to enjoy a day at the beach for a day trip. Summer in Istanbul is really hot .
For those of us who live in Istanbul, it is a real pleasure to be able to enjoy the sea which is only twenty kilometres from the hustle and heat of the city centre. The Northern part of Istanbul is still very wild with forests, beaches and small villages.
The peninsula is bordered by the Black Sea and offers large sandy beaches . These beaches are still  unknown to travellers as very few are mentioned in conventional guides
Our selection of the best beaches in Istanbul :
Burc Beach
Located on land owned by the University of Bogazici , the beach has everything to make you have a good day. It extends over 2km, has white lovely sand and offers many activities such as sea catamarans, canoeing, kayaking, windsurfing and volleyball courts. There is also a bar – restaurant and a bar on the beach. The weekend during the late afternoon music and good music await you . Burc Beach also hosts the annual World Championships of kitesurfing and many concerts. www.bumed.org.tr
Admission : Weekday 40TL – Weekend 70TL
Getting there :  Shuttle are organized from the city center, you can check the schedule here
Solar Beach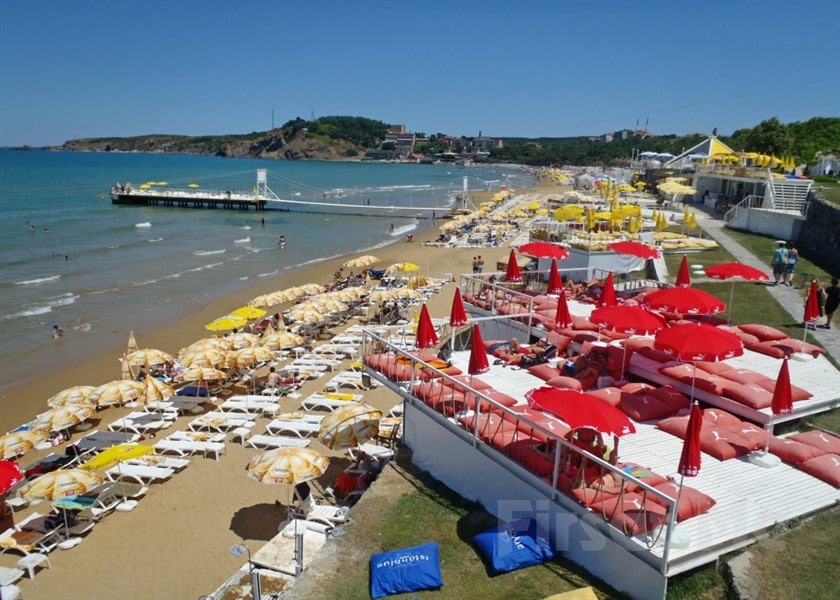 The beach combines everything to have a great day with your family or your friends. It extends over 1km and offers many activities like jet skiing, surfing and more. There are some good restaurants, bars and many stores next to the beach.
Admission: Weekday 40TL – Weekend 70TL.
Getting there: You can find buses next to Yeni Levent and Haci Osman metro's. You have to pre-order for the bus and the return is at 6 p.m. You can find more information by clicking here.
Suma Beach club
The Suma Beach Club is a private beach with free Wi-Fi , a bar and quads for woodland walks . Thrill seekers can even do a session of ultra light aviation . The club also organizes late afternoon volleyball tournaments and beach soccer. The atmosphere is very casual and student-like, some nights the club hosts outdoor concerts on the beach. Find all the information on their facebook page
Admission : Weekday 40TL – Weekend 60TL
Getting there : Shuttle are organized from the city center, you can check the schedule on there facebook
Uzunya Beach 
Located in a small cove this beach is absolutely charming. Here the atmosphere is familial and quiet. It is the perfect spot to relax by the sand or the grass. There is also a really good fish and mezzes restaurant that you have to try.
Admission : Weekday 40TL – Weekend 60TL
Getting there : Unfortunately there is no shuttle or bus that get there, the easiest way is to get a taxi from the city center or to rent a car. For more informations you can visit there website.