Where to drink in Istanbul?
The night falls on Istanbul and you start being thirsty? Good news, Istanbul also lives at night and places to have a drink are not lacking. You will find many neighborhoods with many nice bars to go out in the evening in Istanbul, and, like in all major cities worldwide, many different styles and atmospheres. On weekdays most bars fill up at the exit of the offices,and on weekends they are crowded with locals who come to celebrate. We chose to organize our article by zones rather than by bars to offer you a wider selection that will please everyone. Here is the ultimate guide to not getting bored at night in Istanbul:
The district of Karakoy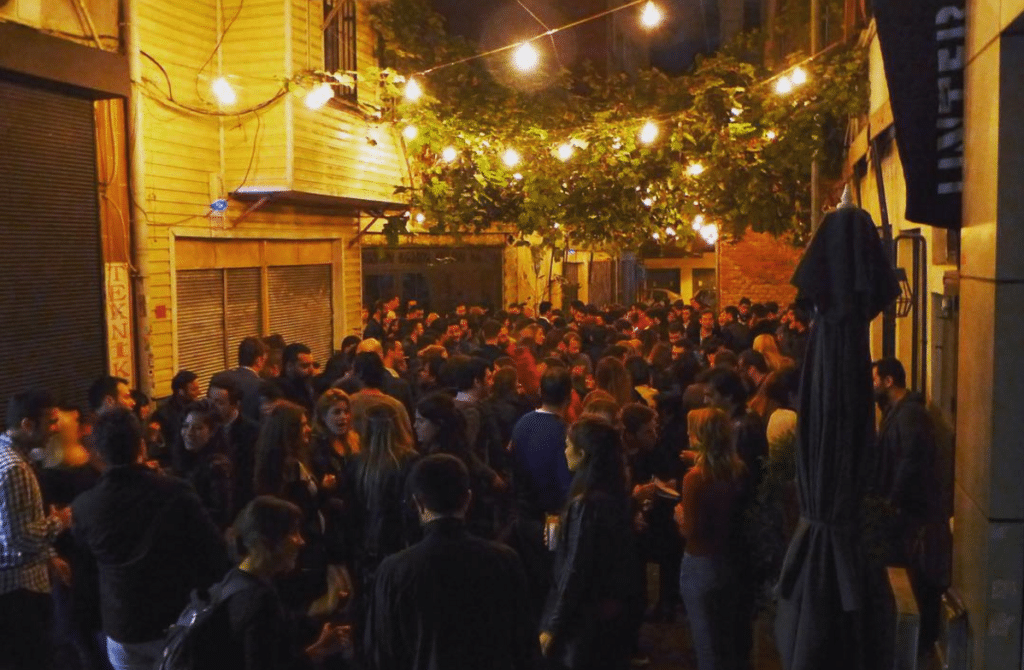 The district of Karaköy became this last few years the meeting point of Istanbul's hipsters and artists.Amid the small artisans of another era, you will find many small cafes, trendy stores and trendy bars. What is interesting about Karaköy is its proximity to the old town (Sultanahmet) and the district of Galata, but also the fact that most of the nice places are in the small streets hidden of the major axes. Here the clientele is rather young and bohemian and the establishments do not ask for a special dress code to let you in. In the cool places that we can advise you their is the Nest (nestkarakoy), a rooftop with a pretty sea view and DJs who come to mix. You can also fins Unter (unter.com.tr), a gastro / bar pioneer in the neighborhood and always busy, Mitte (Mitte-Karaköy)  a nice bar a bit chic that transforms in a nice night club. Otherwise if you are looking for a pub atmosphere with a wide selection of beers you can head for Ayı (ayipub), a nice pub. Around the Ayı pub you also have plenty of other bars.
Arnavutköy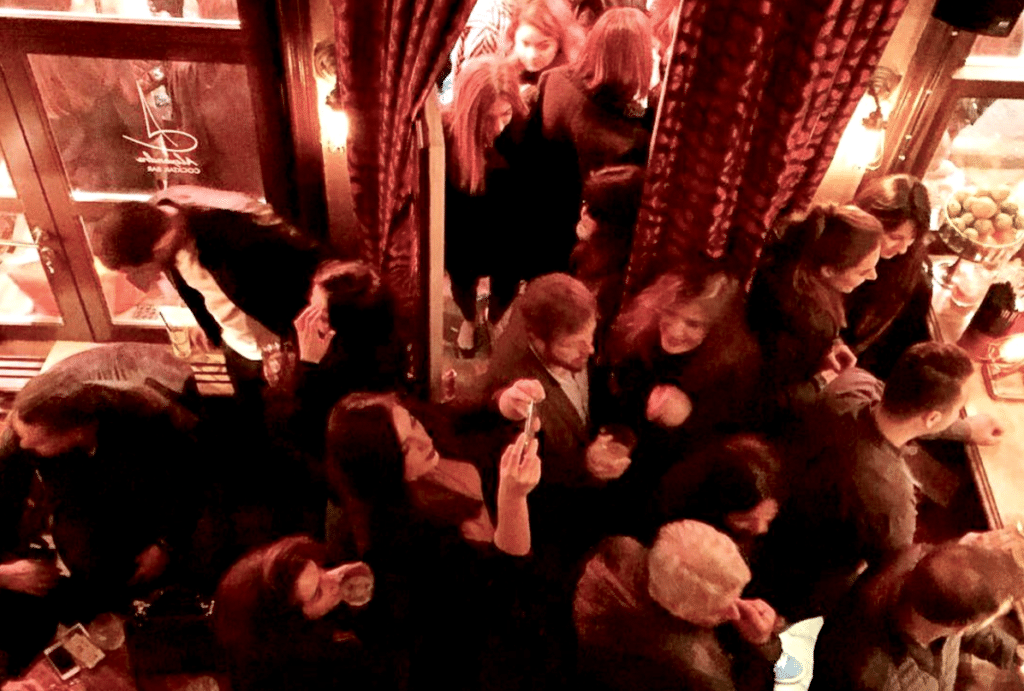 The neighborhood Arnavutköy is very trendy these days in Istanbul. This area that was and still is the flagship place to enjoy a good fish experienced a lot of small and trendy bar opening that are a good option to enjoy a drink and party after dinner. The big advantage of Arnavutköy is that you will never have bad surprises in terms of attendance, here it is full almost every day of the week. Among our favorite spots you will find Alexandra (Alexandra Cocktail Bar ), which offers delicious homemade cocktails, Any (anyistanbul), the most casual of the neighborhood, and Hudson (Hudson-Istanbul), a beautiful brasserie that becomes a bar at night. Finally, for those who want to party, we advice you to go to Backbar (backbar/facebook), a nice club in the hills of Bebeköy. If you want to find yourself in a friendly atmosphere and drink cocktails with trendy locals, it is without hesitation the place where you have to go, in bonus, you can enjoy a good meal before in the many restaurants in the area.
Nişantaşı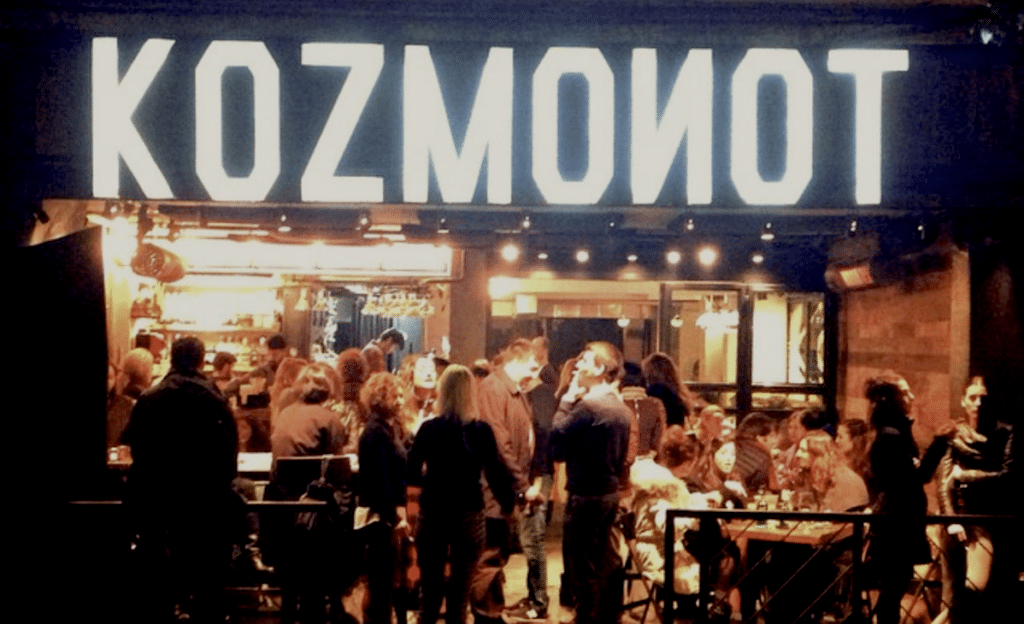 Nişantaşı is a central district of Istanbul with a western lifestyle. For a long time it was the district of Turkish intellectuals like Orhan Pamuk, today is a neighborhood divided into two parts: one that is devoted to fashion and luxury brands, and another more relaxed where new urban lifestyles (vegetarianism, pubs, baristas cafes, yoga salons…) are the norm. In the places we can advise you there is the Kozmonot (kozmonotpub), a pub offering hundreds of different kinds of beers and good cocktails, it is the meeting point of the people of the neighbourhood. You will also find Divine (divinebrasserie.com), A bar / restaurant where jazz concerts are frequently played, and Efendi (efendibar), a small dandy bar with original cocktails. In the most upscale part of the neighborhood you will find the Spago (spago.thestregisistanbul), the very elegant rooftop bar of the St Regis hotel, it also offers excellent cocktails. You can also go to the Atiye street, a small pedestrian street with plenty of pleasant terraces and later on to Sess (sessnisantasi) a high end Turkish music club.
Cihangir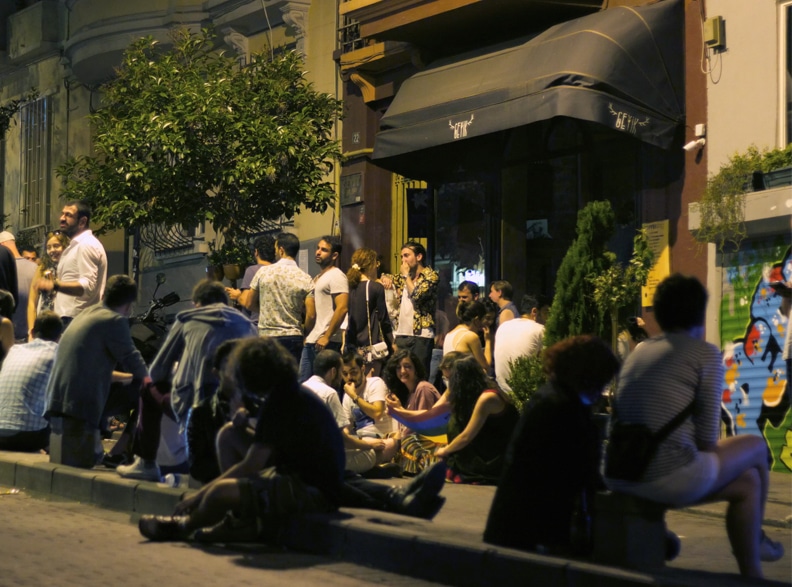 Close to Taksim Square, this district is an area where many artists, hispters and expats live. Here you will not find luxury boutiques or big brands but a whole range of small shops, coffees, conceptual bars and traditional restaurants. The atmosphere is less urban than in Nişantaşı or trendy than in Arnavutkoy, and the style is casual. Among the nice places you can find for a drink there is the Geyik (geyikcihangir), a bar which is the headquarter of the Cihangir hipsters offering a familial and relax atmosphere, the Smyrna (smyrna-cihangir), which is somehow arranged like a Parisian troquet and where are found artists, expats, writers or journalists. You will also find Otto (otto), a very nice modern bar at the bottom of a passage and Mini Muzikhol (minimuzikhol), one of the best electronic music club in Istanbul.
Beyoğlu (Istiklal)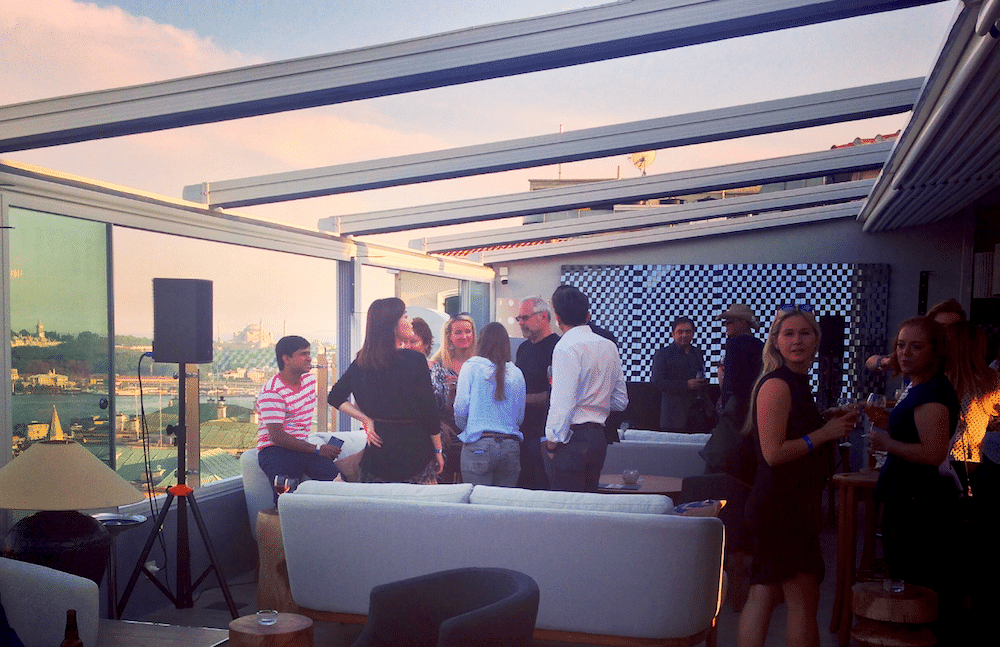 Beyoglu is the entire area stretching from the Taksim Square to Galata and bordering the main avenue of Istiklal. Up to 3 years ago, it was the center of the nightlife in Istanbul, But many bad decisions on the part of the mayor have caused many bars or other concert halls to move to other neighborhoods. However, there are still hundreds of good addresses in the area, here are the ones we have selected for you: 5 cocktails and more (5cocktailsandmore) it's a small bar in a small hidden street of the neighborhood making cocktails, Nu Teras (nuteras), a beautiful terrace with a breathtaking view of the Golden Horn only open during summer, the Ravouna 1906 (cafe.ravouna1906), a magnificent historic café / bar with a view on the Bosphorus, the Limonlu Bahce (limonlubahce.com) a very cute restaurant-bar located in a pleasant garden, and finally the Sensus Bar (sensuswine), a non expensive wine house offering a wide selection of Turkish wines and cheeses. It is a perfect place to go for a drink and discover the Turkish wine culture. .
Kadikoy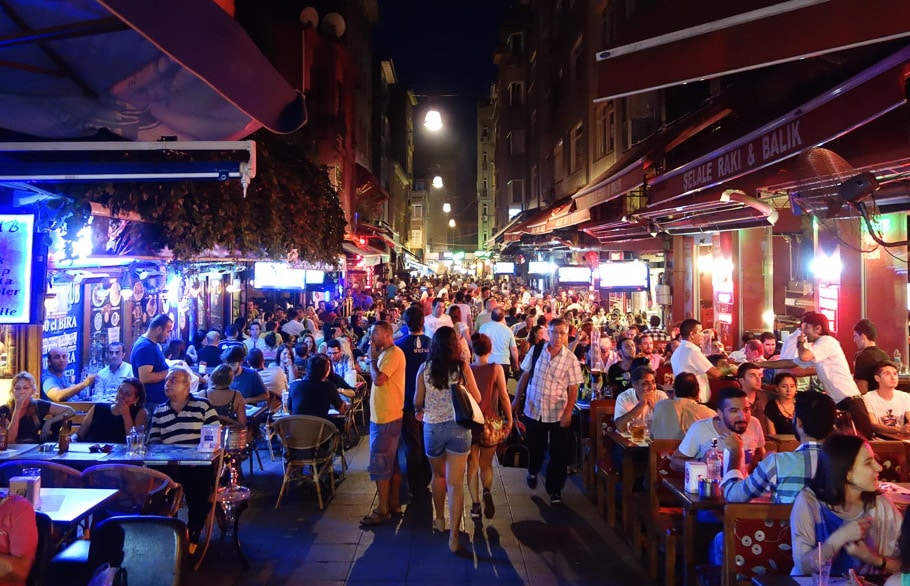 Kadikoy is a large district of the Asian side where life is good and smooth. This is rather a secular middle class area and although it is far from the touristic areas, it is worth a look! The best way is to get there early in the evening by ferry and return later in dolmuş or taxi (see "Our guide to public transportation"). You have to choice with many bars in the area like Arka Oda (arkaoda), A bar often welcoming live artists in a rock & roll atmosphere, the Monks (monksistanbul), a great pub in the bars street of Kadiköy, The 360 East (360east), a rooftop near the pier where you will enjoy a beautiful view of the city, the Divan Brasserie (divankadiköy), a stylish brasserie in the Kalamış Marina and Karga (kargakadiköy), a rock bar opened in 1996!
Bomonti Ada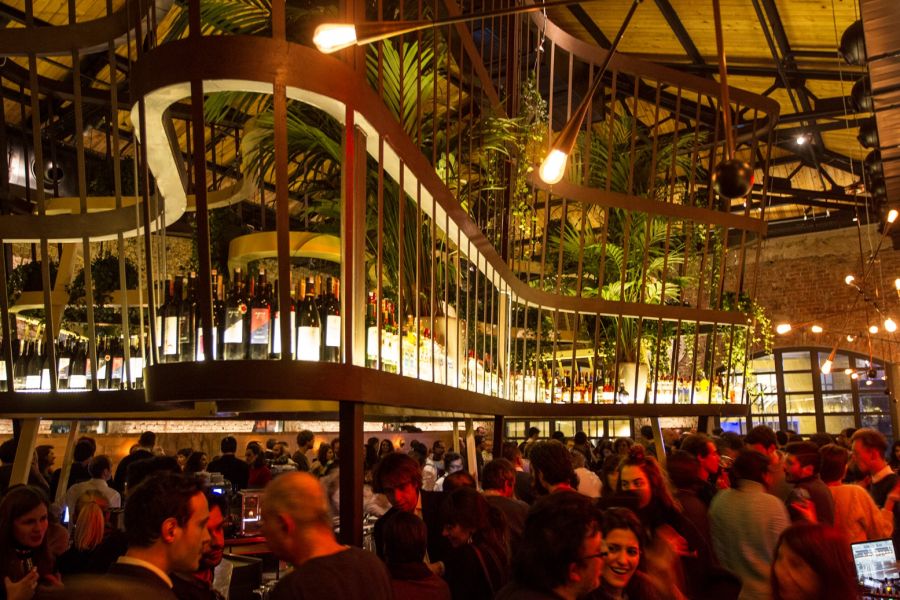 Babylon, Istanbul's most famous concert hall relocated from Beyoglu in 2015 to settle in the former Bomonti beer factory. it brought with her several restaurants, bars and art galleries and they created an art space in the heart of Istanbul. Rather successful,It is a cozy place to have a drink, dine and attend a concert. We advice you the bar Popülist, (Popülist) a  very nice bar brewing its own beer where you can meet local advertisers. Do not hesitate to go and test the other addresses of the complex like the bar Kilimandjaro, Kiva or the winehouse Delimonti.
On the Bosphorus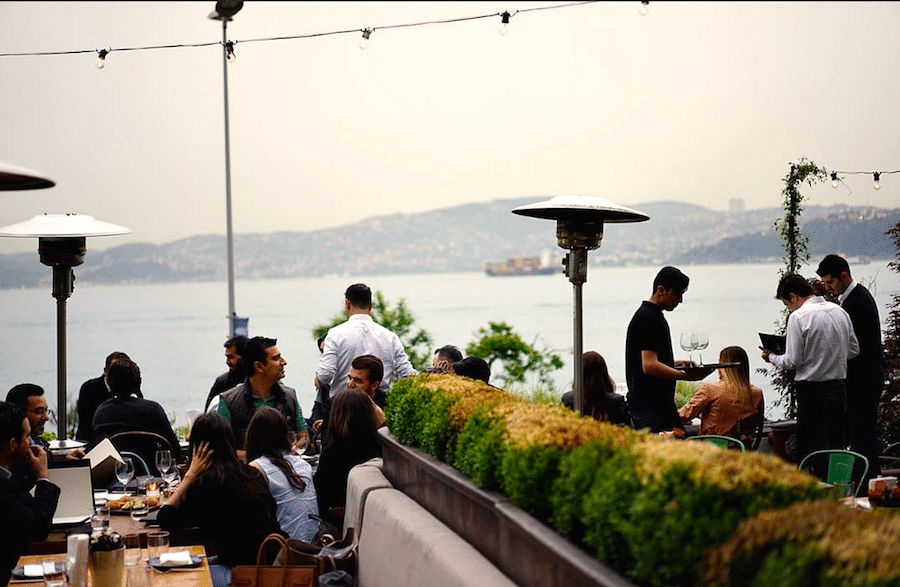 Going North on the Bosphorus on the European shore you will arrive in a very privileged area that is the residency place of the rich locals. Here everything is luxury, and you will not see any tourist. In addition to the beautiful surroundings, there are plenty of nice places to have a drink, especially in the Bebek district. You will find Lucca (luccastyle), one of Istanbul's most famous bars, where you can drink cocktails, good wine and appreciate life's beautiful things. Further you have the Chilai (chilaibebek), it has a slightly less refined clientele but possess a stunning view of the Bosphorus and Taps (tapsbebek), a brewery that offers hundreds of different kinds of beers, including theirs. Further and more privileged, you have the restaurant / lounge La Boom, (laboomistanbul) a very nice place with a terrace overlooking the strait and a wealthy clientele cooling off after work.
Here is a map of the different neighborhoods we have listed in this article: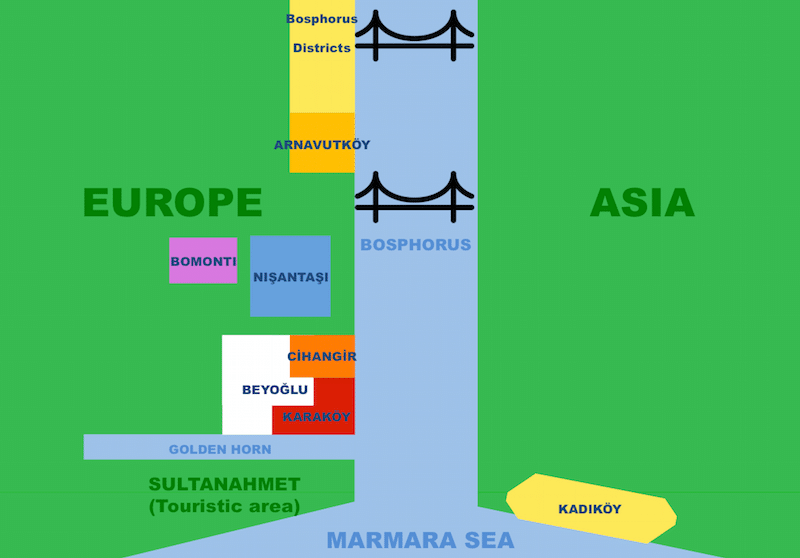 You will of course find hundreds of bars that are not in our list during your stay, but the range of addresses that we noted above will allow you to enjoy your holidays in Istanbul. A tip, do not be afraid to venture over there even if it may seem a little far from the monuments and the touristic areas, you will discover a whole different Istanbul where it is good to live!
Do not hesitate to tell us your experiences or share your findings with us in comments or by mail, and if you have any question or need a reservation contact us!