Where to shop in Istanbul?
We get more and more people asking us "Where to shop in Istanbul?"; "Which souvenirs should we purchase?"; "What are the trends in the Istanbul shopping scene?".
So we decided to make a section specifically dedicated to shopping answering these 3 main questions.
The Turks, and in particular the Istanbulities, have for several years become accustomed to shopping in major shopping centers. These centers are flourishing everywhere in Istanbul, there are some in every neighborhood and new ones are being built.
Here are our top 6 best shopping malls in Istanbul:
1. İSTİNYE PARK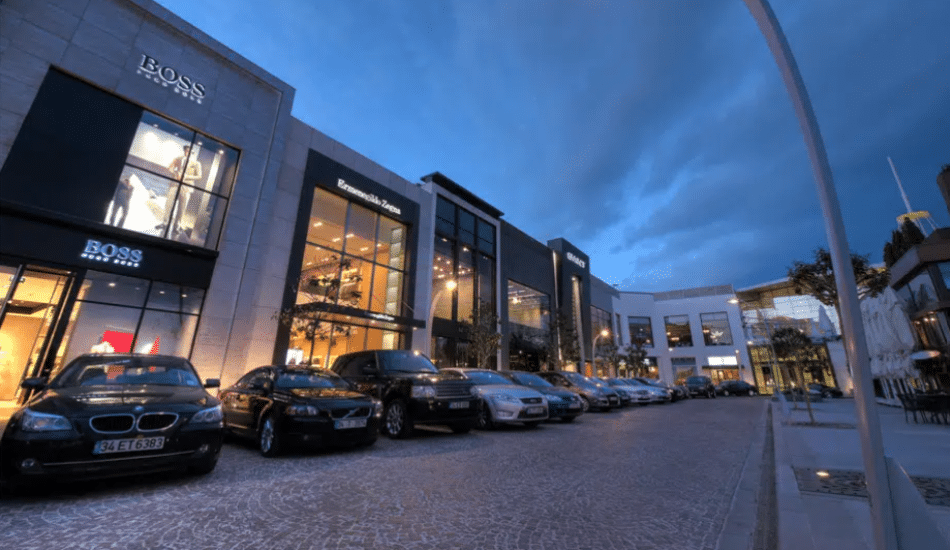 It is the most luxurious and one of the largest shopping centers in Istanbul. It is located near the business district of Maslak halfway with the district of İstinye on the Bosphorus. The center is divided into two sections: an indoor shopping mall with hundreds of shops bringing together Turkish and international ready-to-wear brands, appliances, a floor dedicated to restaurants (mostly fast food), a covered bazaar where you will find spices and more traditional products, a cinema with an imax3d room, and many others.
But what really catches our attention in İstinye Park is the open section, organized like a small village where each brand has its own building. Here you will find luxury brands: Chanel, Hermès, Jimmy Choo, Dior, Louis Vuitton, and some restaurants including Armani Café, Gigi, and Masa. We recommend lunch or a drink in Masa, the dishes are good and the atmosphere very pleasant although a little flashy.
To get there, take the metro (M2) to İTÜ Ayazağa and then take a taxi, which will cost you the price of a minimum ride.
Address: Pınar, Katar Cd No:73, Sarıyer, İstanbul
Website: http://www.istinyepark.com/en
2. KANYON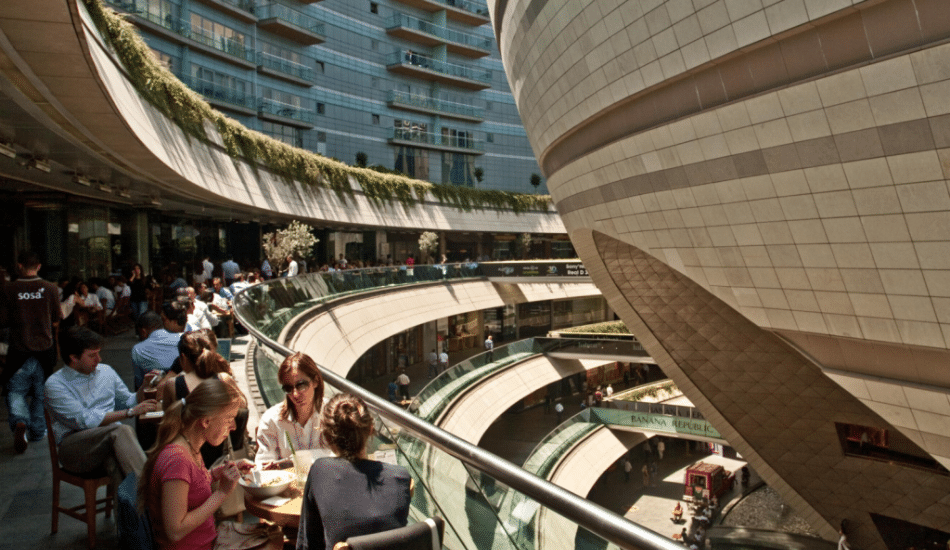 Kanyon is a 4-story shopping mall designed like a canyon, hence the name. It is located in the middle of the business district of Levent, and with direct access to the Levent metro. The mall is home to cafes, restaurants, a gym, ready-to-wear boutiques (including Harvey Nichols), and a cinema.
He was awarded the Best Mall Award by the Cityscape Architectural Institute in 2006.
You can get there by metro (M2) at Levent station, and take the Kanyon AVM exit to access the mall easily.
Address: Levent, Büyükdere Cd. No:185, Şişli, İstanbul
Website: https://www.kanyon.com.tr/en/home
3. ZORLU CENTER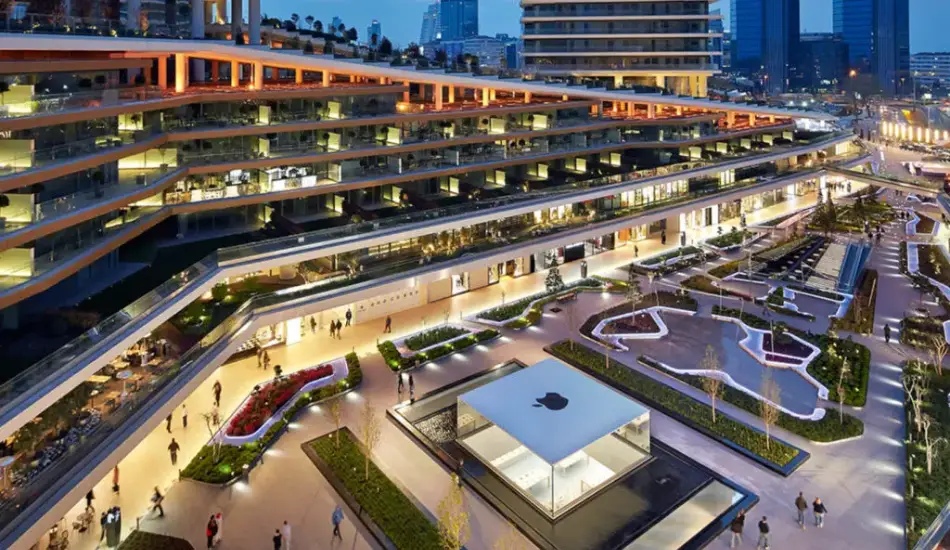 It is one of the most recent shopping malls in Istanbul. Modern and chic at the same time, the Zorlu Center contains more than 180 boutiques that combine Turkish and international brands, luxury boutiques, as well as a wide selection of restaurants. The top floor is open-air, which allows hosting small temporary shops or a Christmas market in December for example.
The easiest way to get there is to stop at the Gayrettepe station via the metro (M2), which also has direct access to the shopping center.
Address: Levazım, Koru Sokağı No:2, Beşiktaş, İstanbul
Website: http://www.zorlucenter.com.tr/en/
4. CITY'S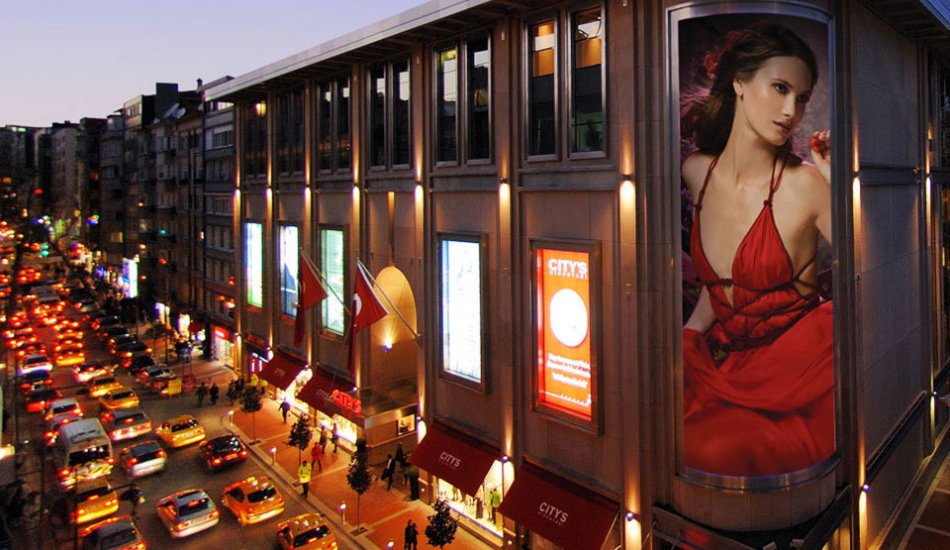 In addition to being located at one metro stop in Taksim, in the trendy Nişantaşı district, City's is one of Istanbul's most important fashion centers. It has everything from restaurants, cafes, shops, a cinema, and valet service for your vehicle. City's is smaller in terms of area compared to the other shopping malls on the list but its very pleasant setting is ideal for strolling and shopping.
To get there, we recommend taking the metro (M2) and stopping at Osmanbey station, then walking less than ten minutes down a street full of shops before arriving at City's.
Address: Teşvikiye Mahallesi Teşvikiye Caddesi No:162, Nişantaşı, İstanbul
Website: http://www.citysnisantasi.com
5. VADISTANBUL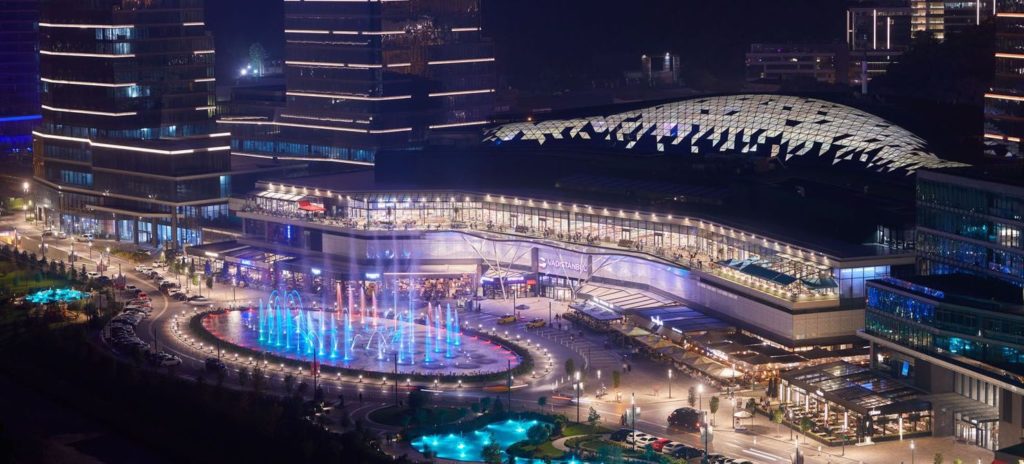 Vadistanbul is a new district of Istanbul with a gigantic shopping mall that deserves a look. The gallery has more than 270 shops and its 760 m long open-air shopping street offers shops, cafes and restaurants with a view of the forest.
The glass ceiling gives every visitor the feeling of being outside. Vadistanbul also houses ready-to-wear shops, shops, restaurants, an arcade and a cinema with 11 rooms, including the Gold Class room with maximum comfort and the ScreenX room with special acoustics. The Jolly Joker concert hall is also within the shopping centre and hosts concerts throughout the year.
To get there, the easiest way is to stop at Seyrantepe station via the metro (M2) and take the Havaray shuttle (F3) available to get to the shopping mall.
Address: Ayazağa, Cendere Cd. 109 C, 34396 Sarıyer/İstanbul
Website: http://www.istanbulcevahir.com
6. CEVAHİR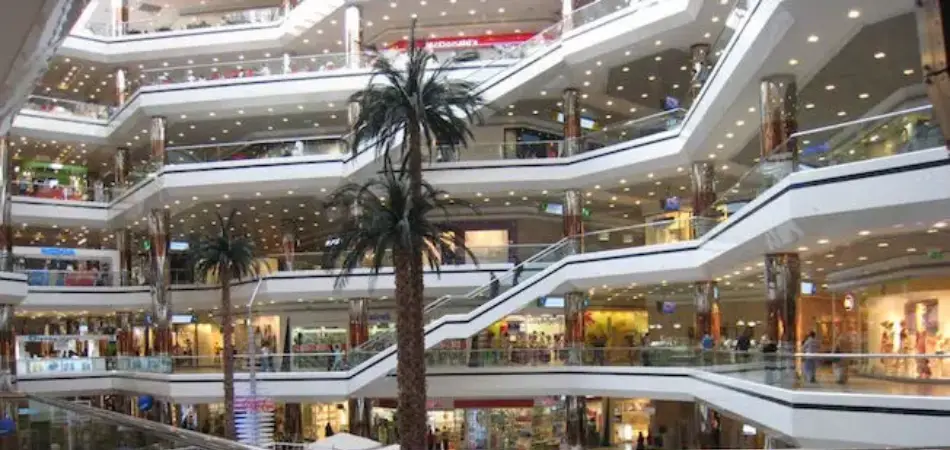 It is home to roller coasters full of shops and a 10,000 m² dining area, as well as the second-largest clock in the world.
To get there, we recommend taking the metro (M2) and stopping at Mecidiyeköy-Şişli station, then take the Cevahir AVM exit for direct access to the shopping center.
Address: 19 Mayıs, Büyükdere Cd. No:22, Şişli, İstanbul
Website: http://www.istanbulcevahir.com
These 6 shopping centers are for us the most representative of those present in Istanbul.
If you don't like shopping malls, an alternative to shopping in Istanbul (and discovering new and less touristy areas) is to stroll through some of the areas famous for their shops.
NİŞANTAŞI DISTRICT
The Nişantaşı district is a central area of Istanbul with an urban atmosphere. There are two distinct parts: the chic part and the slightly more bobo part.
In the chic part, you will find all the biggest luxury brands: Louboutin, Louis Vuitton, Cartier, Dior, Gucci, Rolex, Prada, Tom Ford, Chanel, etc. They are mainly located on Abdi İpekçi Street (this is one of the streets with the highest retail rents in Istanbul). There is also Beymen, the brand that brings together prestigious brands and designers. It is the equivalent of Galeries Lafayette or the chic chain of stores, Harvey Nichols.
In the other part, you will also find in this area many small boutiques of independent designers, especially near the Ilhamur Dere Sokağı as Les Benjamins, Shopi Go, Can Polat, or V2K designers.
This is where the City's shopping center is located, more precisely on Teşvikiye Street. It also offers a wide range of shops and has a cinema on the top floor. You will also find on the whole streets the textile district between Osmanbey and Nişantaşı.
There are also many nice bars and restaurants. As nice bars, you can find Socrates, Joker No: 5 on the Atiye Sokak, and also the terrace of the Spago (St-Régis Hotel) more luxurious and very pretty.
The easiest way to get there is to take the metro (M2) and get off at Osmanbey station (one stop from Taksim).
BAĞDAT CADDESİ / BAGDAD AVENUE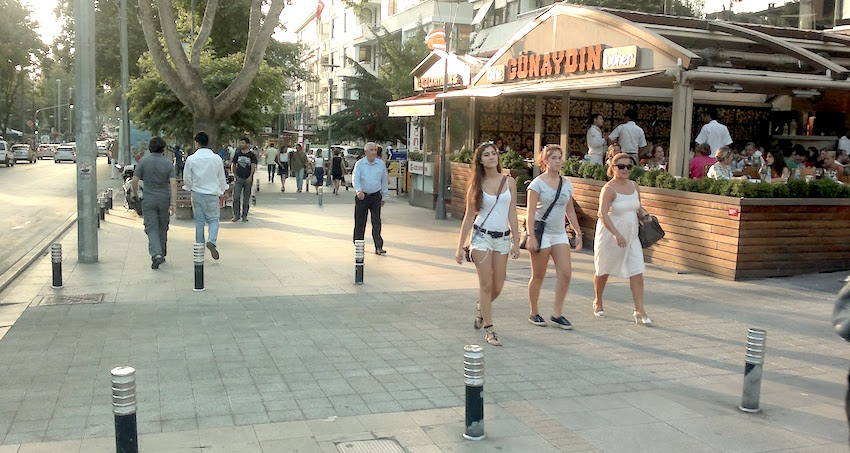 Located on the Asian side of the city, the avenue is 14 km long and runs parallel to the Marmara Sea. Bagdad Avenue is known as the "Champs-Élysées of Istanbul". The most interesting part of shopping and strolling is 6 km between Bostancı and Kızıltroprak.
To get there, you can take the public boat to Kadıköy to pass on the Asian shore if you are on the European side, then climb into a dolmuş (pronounced "dol-mush"), this collective taxi or a taxi.
You can easily introduce it to our program: a half-day in Asia.